The Oakwood Lumberjacks basketball team cut the sails off the West Carrollton Pirates 76-70 in a quadruple overtime thriller in the noise-packed Pit. At a tied score of 53-53 with 31.6 seconds left in regulation, Oakwood called time to setup the final play to win, but didn't convert before time ended.
Oakwood was behind 55-58 with less than 10 seconds left in OT1 when AJ Lewis was fouled while attempting a 3-point shot. AJ converted two of his three free throws to make it 57-58. With 3.8 seconds left, Jake Mays was fouled in the act of shooting and made one of his free throws to end OT2 at 58-58. Baskets were traded to end OT3 at 63-63.
In the fourth OT, the spirit of Oakwood shined. Robby Sherk began with a lay-up,
and Will Garner sank a pair of foul shots. But the momentum was all Oakwood when Chris Hardy made a quick strong move to the basket to make a lay-up. The home crowd erupted to a deafening cheer when the referee whistled a blocking foul and signaled Hardy's basket counted. Chris, at the line, completed the three-point play.
Oakwood continued to maintain their poise by converting their foul shots to pull
away 76-70.


Photos by Leon Chuck, www.PressboxPhoto.com
The Pit was standing room only and loud chants were traded between West Carrollton and Oakwood fans.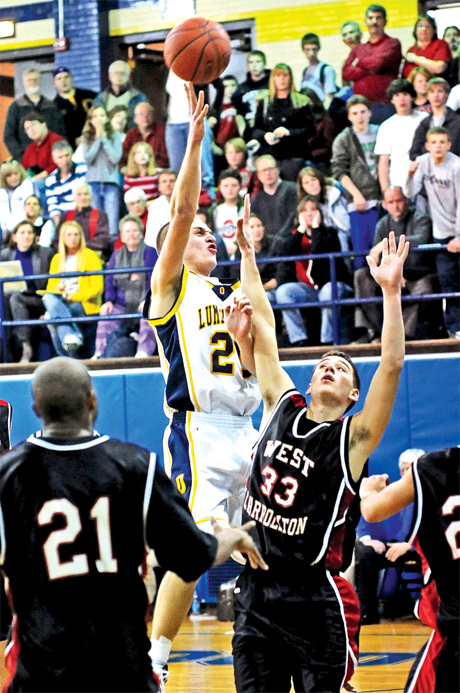 Robby Sherk (Jr) pulls up in the paint for 2 of this 14 points.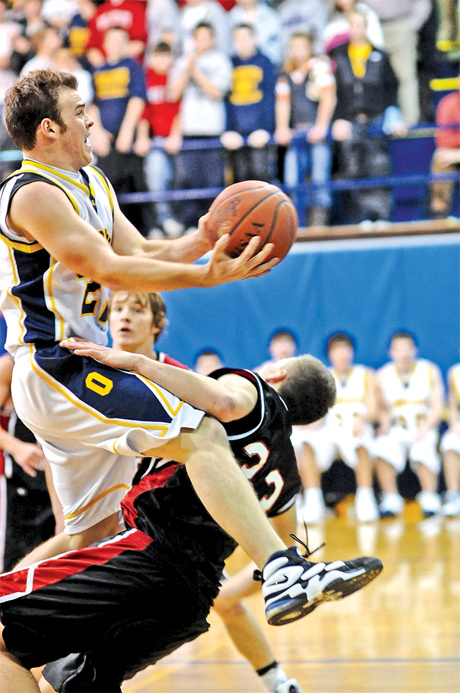 Chris Hardy (Sr) scored on a quick strong move and was able to complete a 3-point play in the 4th OT.