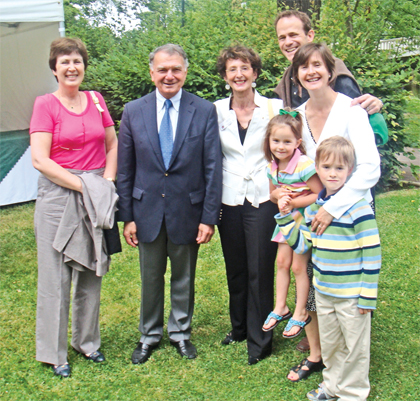 Pictured (from left) Le Vesinet Sister City Association vice-president Annie Serin, Mayor Robert Varese, committee secretary Anne-Marie Borderie, Dr. Jack Bauer, Tricia Bauer, Grace Bauer and Jackson Bauer.
The city of Oakwood was recently honored by its sister city, Le Vesinet, France, during the annual Fete de la Marguerite. Dr. Jack Bauer, professor of psychology at the University of Dayton, and his family represented Oakwood during the MarguÈrite Festival. This year's festivities were highlighted by a grand opening ceremony in honor of Le Vesinet's six sister cities, and particularly in celebration of the 25th sister-city anniversary between Le Vesinet and Worcester, England. Representatives from Le Vesinet's sister cities in England, Germany and Spain were also on hand to participate.
"Le Vesinet is an absolutely beautiful city," Bauer said. "We found the people there to be very warm, engaging, and even eager to talk with us - even though I had to pardon my French quite a bit."
Bauer said Le Vesinet's Sister City Committee made it very clear that they want to strengthen ties with Oakwood, primarily through the cultural exchange program for high school students.
"We left with the feeling that Oakwood is fortunate to have ties to this city," Bauer said.
Bauer presented the Le Vesinet committee with gifts from the Oakwood Sister City Association, the book "Oakwood: From Acorn to Oak Tree, A Centennial Celebration 2008" and a publication featuring the writings and artwork of Oakwood senior high students, "Inkblots."
The Oakwood Sister City Association works to actively fulfill the stated mission of Sister Cities International, honoring President Eisenhower's 1956 mandate for citizen diplomacy, to "promote peace through mutual respect, understanding and cooperation ≠ one individual, one community at a time."
Oakwood currently has two French speaking sister cities: Le Vesinet, a suburb of Paris, and Outremont, Canada, a suburb of Montreal. They also have an official Friendship Pact with Unterhaching, Germany.
For more information regarding the Oakwood Sister City Association, please send an e-mail to oakwoodsistercity@gmail.com, or visit us online on our Facebook page or at www.oakwoodsistercity.webs.com. The group will also host a booth at Oakwood's Ice Cream Social on Aug. 16 at Shafor Park, featuring a special guest who will create souvenirs a la Francaise.