OHS students readying for Fiddler opening night
Fifty Oakwood students comprise the cast of the Oakwood High School spring musical, Fiddler on the Roof. Set in 1905, the story takes place in Anatevka, a small Jewish village in Russia. The plot revolves around the dairyman Tevye and his attempts to preserve his family's traditions in a changing world.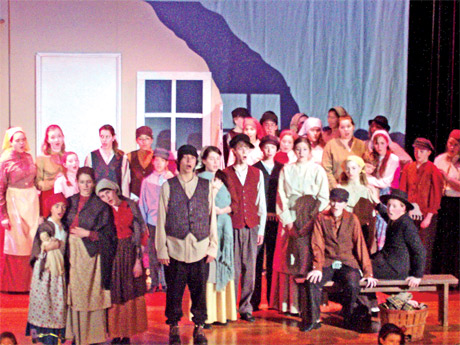 Cast members from OHS production Fiddler on the Roof.
This year's musical is directed by 27-year-old University of Dayton graduate, Michael Wadham. He says the choice of Fiddler on the Roof as this year's musical was not hard because of the number of actors needed to play main roles. Another reason for choosing Fiddler was that both the students and audience could relate to the musical's themes. Cami Brewer is the stage manager, and senior Michelle Lynch is assistant stage manager.
One of the things Wadham did in preparation for the musical was set aside one day of rehearsal, called 'History Day', to allow the students to learn about the background and history of the musical. Wadham says 'History Day' enable the cast to emotionally connect and understand their roles.
Fiddler on the Roof is a musical written by Jerry Bock and Sheldon Harnick as well as a book written by Joseph Stein, both adapted from the 1894 tales written by Sholem Aleichem. Wadham describes the musical as "funny, heartwarming, and heartbreaking" and says Fiddler is a musical that runs "the emotional gamut."
Sophomore Noah Berry as Tevye and junior Katie Mauch as Golde head up the family and talented cast. The daughters are played by seniors Krista Weltner (Tzeitel) and Nora Murphy (Hodel), sophomore Joanna Draper (Chava), junior Audrey Maney (Sprintze), and Vivian Raab (Bielke) from Harman Elementary. Senior Jake Basnett and juniors Tyler Rife and Dillon Corrigan play the suitors.
Other roles are played by: seniors Hannah Berry (Yente), Sarah Hanselman (Shaindel), Stephanie Hemmelgarn (Rifka), Meredith Hollingsworth (Avram), Kyle Kissock (Sasha); Lindsay McWilliams (Mendel), Laura Schaeffer (Nachum) and Siobhan Tellez (Mordcha); juniors Dan Dresher (Constable) and Gabriel Robinson (Lazar Wolfe); sophomores Alana D'Agostino (Yussel), Chelsea Bolger (Fruma Sarah), Clara Hofeldt (Fiddler) and Rob Mitchell (Rabbi); and freshman Haley Penchoff (Grandma Tzeitel).
High school members of the ensemble are: Haley Basnett, Valencia Bruno, Alyssa Coyle, Kristen Foos, Anna Johnsen, Tiffany Loftus, Alexandra Morris, Cara Mumford, Sarah Oda, Catherine Ordeman, Caroline Paule, Madison Reger, Abby Scharrer, Mary Snider, Samantha Swift, Katie Taylor, Kaitlynn Trent, and Melanie Ward. Harman and Smith students Max Diodoardo, Erin Donnelly, Madelynn Einhorn,Trent Gould, Noelle Kipp, Callia Tellez, and Ben Wilson complete the cast.
Fiddler on the Roof will be showing this Friday, March 20 and Saturday, March 21 at 8 p.m. and Sunday March 22 at 3 p.m. in the Oakwood High School Auditorium. Admission is $7 for students and $10 for adults. Donations are also being accepted to support the Oakwood High School Musical Department. For questions about donations and purchasing tickets before the show call 297-5325.
---
The Oakwood High School Academic Decathlon team placed first in the small school division at the Ohio Academic Decathlon State Competition on March 13 and 14, 2009. The competition was held at Lake Erie College in Painesville, Ohio.
The students diligently prepared for the competition through extensive study in ten different subject areas including mathematics, economics, art, music, evolutionary biology, language and literature, social science, speech, interview, and essay. This year's focus of study in these areas was Latin America. The team is uniquely composed of students from the "A", "B", and "C" GPA category levels.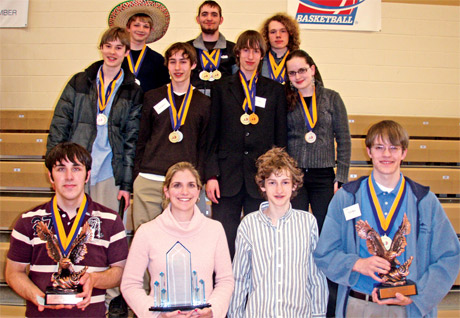 Bottom Row (left to right): Jeremiah Johnson, Coach Lori Kavanaugh, Noah Faust, and Chris Mudry, Middle Row (left to right): Ian George, Ethan Kissock, Nick Grilliot, and Sterre ter haar. Top Row: Steven Hix, Jonathan Pearson, and David Holdren.
In addition to winning first in the small school division, the following students received individual medals for high scores in select subject areas: Jeremiah Johnson (language and literature, social science, art, mathematics, super quiz, and speech), Chris Mudry (language and literature, social science, art, economics, and mathematics), David Holdren (essay, music, mathematics, and super quiz), Ethan Kissock (social science, economics, and speech), Jonathan Pearson (art, economics, and mathematics), Nick Grilliot (social science and mathematics), Sterre ter Haar (interview and speech), and Ian George (essay and social science).
Also recognized were Chris Mudry and Jeremiah Johnson for earning the prestigious Golden Eagle award for the highest score in their individual categories. Mudry, grade 12, achieved the highest score in the scholastic category and Johnson, grade 10, achieved the highest score in the varsity category. Each received a $500 cash reward for his achievement.
The following students competed on the OHS team this year: Jonathan Pearson (11), Nick Grilliot (10), Ian George (10), Chris Mudry (12), Sterre ter Haar (11), David Holdren (11), Ethan Kissock (10), and Jeremiah Johnson (10). Competing at-large were Steven Hix (9) and Noah Faust (9).
Lori Kavanagh is an English teacher at Oakwood High School and coaches the team.