On Friday, Dec. 19, President William Schuerman presented the 2008 Oakwood Rotary Club Civic Leadership Award to Madeline Iseli and Richard Good. The recipients served as the Co-Chairs of Oakwood's centennial celebration. The two were lauded for their leadership and dedication in organizing and producing the many faceted year-long celebration.
In her remarks, Mayor Judy Cook praised the efforts of the pair for all they accomplished in the three years they devoted to creating and executing the centennial celebration. Madeline Iseli was recognized for her welcoming
demeanor and encouraging manner. She did much to create a spirit of cooperation and enthusiasm for the volunteer leaders of the Centennial Committee. Madeline also accepted responsibility for keeping us well informed with written reports.
Dick Good was the man that kept us on track and moving forward. By example of always working harder and longer than anyone else, he led the volunteers to accomplish all the necessary tasks. Every detail was addressed and carefully executed. His expert organizational skills allowed the Centennial Committee to work smoothly as a unified group. It was his insistence and leadership that created the expert volunteer group that produced the treasured From Acorn to Oak Tree commemorative book. His personal efforts garnered the contributions from our generous business community so the book could be published and given free to our citizens. His efforts extended to finding a delivery capability by way of an Eagle Scout project.
It was important for Oakwood to have a centennial celebration that was engaging, appropriate and successful. Madeline and Dick made this possible. They have been an ideal team. With complimentary leadership skills and equal dedication, they led the way for all of us to follow. As we come to the end of our centennial year, it is a great pleasure to honor them as recipients of Oakwood Rotary Club Civic Leadership Award.
By Mark Bustillo

The Lumberjacks dominated at this years Oakwood Wrestling Invitational Tournament held this past Saturday at home in the Pit. Competition was dual tournament style with five away teams visiting for a not-so-nice day with our varsity wrestlers. The Lumberjacks hosted Springfield Northeastern, Alter, Stebbins, Cincinnati Northwestern and Fenwick who all fell hard to our Blue and Gold. After a full day of brutal competition Oakwood sent home all five teams in defeat seizing the first place trophy and a top three placement spot in nearly every weight class. Northeastern took second place and Stebbins walked away with third place awards for overall team performance.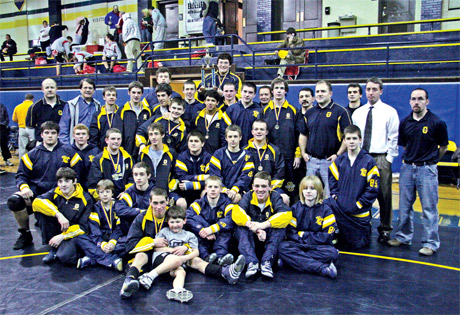 The Oakwood wrestling team poses for the camera.
The highlights of the day were...well they were seemingly every 10 minutes. Our Lumberjacks won over 60 matches – with a lot of impressive pins. The Jacks looked ripped, focused, and simply annihilated nearly every opponent as they stepped on our mat. With ceremonies complete our Oakwood team rallied off the mats with seven Golds, three Silvers and three Bronze medals…not to mention 30+ well earned grins.
Coach Kesler strategically moved a few wrestlers into neighboring weight classes throughout the day to maximize win ratios so some weigh class victories were shared by wrestlers. The "Gold Rush" began with five wins at 103 with two punishing pins by Kevin Lee and three byes. Lee also performed well in the 112 pound class, winning handily over the competition by a major decision. Another pin by freshman Thomas Bustillo along with two byes paid in Gold at 112. Daniel Jacobs tore through opponents with a pin, two techs and a decision in tough matches accompanied with another gripping pin from Pat Debrosse - all of which crystallized first place at 119. Brandon Bustillo destroyed his competition by pinning three stunned challengers, surgically tech'ing a fourth and accepted a forfeit to dominate with five wins at 125.
Alex Kooser, who was robbed of Gold last week at Fairmont due to tie break criteria, made up for it this week by hammering his opponents and securing first place with a pin, two technical falls and two byes at 130 pounds. At 145 pounds, senior Josh Hootman slammed his opponents with four grueling pins and beat the fifth opponent by decision in astonishing consecutive wins that went on all day long. And finally, Andrew Raichle grabbed Gold at 189 with two stylish pins, a win by decision and two forfeits. All seven gold medal finishes came from hard battles and determination for deserved victories in each spot. Congratulations men!
The day yielded other high honors including silver medals for Will LeBoeuf at 135, Max Briedenbach / Cameron Wedding at 171, and Jake Horlacher at 285, who all battled hard throughout the day. Bronze medals went out to Jameson Kordik at 140, Dan Kendig at 152, and Noah Roberts at 215 pounds, all of which threw down opponents in stiff competition. Co-captain Paul Hochwalt did not compete due to an injury.
All told, this was an absolutely amazing performance by our Jacks led by a great coaching staff. Varsity wrestlers will compete again Friday, Jan. 2, 2009 at noon at Home where they will host Carroll High School in dual competition. Come on out and join the excitement!