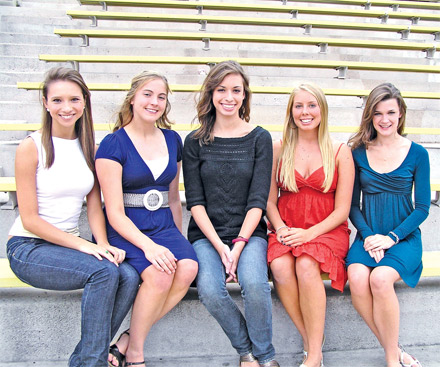 Photo by Lance Winkler
The Oakwood Homecoming football game and Homecoming Queen ceremony will be taking place at Mack Hummon Field on Friday, Oct. 3 with the game starting at 7:30 p.m. Pictured above, left to right, are Homecoming Queen candidates Hannah Wagner, Meredith Irvin, Marissa D'Agostino, Taylor Garrity and Nora Murphy.
National Research Corporation has named Miami Valley Hospital winner of its 2008-2009 Consumer Choice Award for the Dayton area. The award is based on the results of its annual survey of consumer attitudes about health care in major markets across the United States.
"A respected, independent organization has again highlighted the unwavering commitment to quality lived daily by our medical staff, employees and volunteers,"
said Mary Boosalis, Miami Valley Hospital president and CEO. "Receiving this distinction 13 years in a row is further evidence of the high regard our community has for our employees – the talented, dedicated people who are the face and hands of Miami Valley Hospital.
"I am proud to be associated with a team of people who are so passionate about delivering the very best care to our community," she said. No other hospital in the Dayton area has won the award since its inception in 1996.
The Consumer Choice Award identifies hospitals that consumers have assessed as having the best overall quality and image based on four metrics: Best Doctors, Best Nurses, Best Image/Reputation and Best Overall Quality.
Miami Valley Hospital is the largest healthcare provider in the Dayton area with 760 staffed beds.
It has the Dayton area's only:
• Level 1 trauma center
• High-risk obstetrics and perinatal center in the same facility
• Adult burn center
• Organ transplant center
• Air ambulance service
• Comprehensive gynecological oncology program
• Bone and marrow transplant unit
The hospital is served by 5,800 employees and 1,100 physicians in 50 primary and specialty medical practice areas. It was recognized in 2008 by U.S. News and World Report as one of "America's Best Hospitals" for orthopedic care.

It holds Magnet Status in nursing and is a 2008 recipient of the HealthGrades Distinguished Hospital Award for Clinical Excellence, placing it among the top five percent of the hospitals in the U.S.



The Oakwood Register
print version
is available
to subscribers anywhere
in the USA...
click above
for more
info!