By Kathy Bartalo

As our school doors open in just a few short days, we will be welcoming new and returning instructional staff. Here is a brief review of our new faces, and some familiar faces in new places!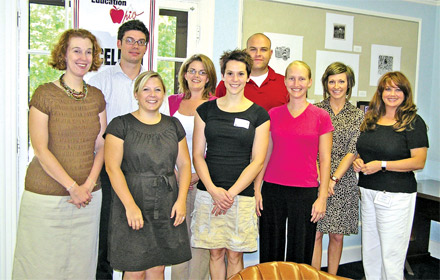 New teachers and staff are, left to right: Shawn Fry, Tony Holzberg, Katie Herms, Julie Thompson, Melissa Brinn, Matt Salyer, Cara Leedy, Kellee Keys and Denise Gordon.
At Smith Elementary School, Melissa Brinn will join our fifth grade team, teaching math and science. Ms. Brinn comes to us from Loveland Schools, where she taught seventh and eighth grade math and science for four years. She earned both her Bachelor Degree and her Master Degree from Wright State University, in Middle Childhood Education. We are also welcoming Katie Herms to our third grade team. Ms. Herms holds a Bachelor Degree in Elementary Education from Northern Kentucky University, and a Masters Degree from the University of Louisville in Elementary Guidance Counseling. Ms. Herms recently relocated here from Kentucky, where she taught second and third grade students for six years. Denise Gordon will be our new Reading Teacher. Ms. Gordon earned a Bachelor Degree in Business Administration, then received her teaching degree from Sierra Nevada College, and a Masters Degree in Elementary Education, Reading and Literacy from Walden University. Ms. Gordon has nine years experience as a Reading Specialist and first grade teacher, most recently in Virginia.
Other exciting changes are in store at Smith this year! Our multi-talented Nate Thompson, who has been teaching at Smith for the past six years in almost every grade level as a classroom teacher, will now move into the role of Music Teacher! And for the first semester, while Ms. Giancola is home with her new baby,
Ms. Julie Thompson will be joining our fourth grade team. Ms. Thompson has a Bachelor degree in Elementary Education from Miami University, and seven years teaching experience at the elementary level. She has also served as a substitute teacher in Oakwood for several years.
At Harman Elementary School, Shawn Fry will join our sixth grade team. Ms. Fry has five years teaching experience with Kettering Schools, and has also been a substitute teacher in Oakwood for a number of years. She earned a Bachelor Degree from Miami University and a Masters Degree from the University of Dayton, both in Elementary Education. Anthony Holzberg joins our third grade team. Mr. Holzberg graduated from the University of Cincinnati with one Bachelor Degree in Sociology and another in Elementary Education. He has four years teaching experience, with varied grades of elementary students, and also has experience in the educational technology field, professional development, and teaching English in Japan. Ed Bowman will be back with the Oakwood Schools as Interim Principal at Harman, until December, when we hope to have a new principal on board. Mr. Bowman has previously served in Oakwood as our High School Principal, Director of Educational Services, and Interim Principal at the Junior High. We are very pleased to have Mr. Bowman back with us!
At Oakwood Junior and Senior High School, we welcome Matthew Salyer, who will be teaching Health and Physical Education. Mr. Salyer graduated from Wright State University with a Bachelor Degree in Health, Physical Education and Adapted Physical Education. He has one year of teaching experience as an Intervention Specialist at the High School level. Cara Leedy joins the Junior and Senior High as an Intervention Specialist. Ms. Leedy graduated from Xavier University with a Bachelor Degree in Elementary Education, and from the University of Dayton with a Master Degree in Special Education. She has eight years teaching experience as an Intervention Specialist. We also welcome Kellee Keys to the Junior and Senior High Schools, where she will be teaching Spanish. Ms. Keys graduated from Cedarville University with a Bachelor Degree in Spanish Education, and in Teaching English to Speakers of Other Languages. She has five years teaching experience. Additionally, Sally Harper will continue to teach science with us this year, making a move from the high School to the junior high school.
We also welcome Mark Brooks-Hedstrom back to the high school science department, and Carol Enns back to Harman as a physical education teacher. Both Ms. Enns and Mr. Brooks-Hedstrom were out of the county last school year, on a leave of absence.
We are also pleased to welcome Bruce Saunders to the district as our
Technology Coordinator. Mr. Saunders comes to us from Wilmington City Schools, where he served as the Curricular Technologist for the last five years.
He also served Wilmington as an elementary principal and an elementary science teacher. In addition, he has been an adjunct professor of instructional technology at Wilmington College. His Bachelor Degree is from Wilmington College, and his Master Degree is from Miami University.
We know that we are very fortunate to have all of these fine professionals joining and returning to our staff, and we hope you will join us in welcoming them to the Oakwood Schools!
Oakwood families and citizens are invited to attend Oakwood's Centennial Closing Ceremony on Sunday, Aug. 17, beginning at 3 p.m. at the Oakwood High School Stadium. Combined with the annual Ice Cream Social, this event will open at 3 p.m. and includes old fashioned games, inflatable's, fried chicken dinners, displays, face painting, a coloring contest, the Avenue of Organizations, a Wright B Flyer flyover. The Oakwood High School Band and the U.S. Air Force Band of Flight.
Oakwood's Got Talent show will begin at 3:30 p.m. in the stadium area. You don't want to miss these talented people. The Oakwood High School band will also perform as a part of the day's festivities. The grand finale will be a concert by the United States Band of Flight beginning at 6:45 p.m.
In case of inclement weather the Band of Flight Concert will be held at Trent Arena in Kettering at 6:45 p.m. Also, the chicken dinners as well as games will be held at the Oakwood Community Center. Dinners will be served from 4:30 p.m. to 6:30 p.m. and games will be from 3 to 6:30 p.m.