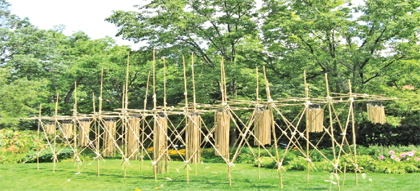 Sound Sculpture created by Michael Bashaw and teenagers from the community and designed to be played at the Aug. 30 concert.
The City of Oakwood cordially invites the public to attend Smith Garden's 35th Anniversary Celebration on Sunday, Aug. 30 beginning at 6 p.m. at Smith Gardens.
The Puzzle of Light will perform in concert, and will also feature a Sound Sculpture which was especially created and built for this special event by Michael Bashaw and children from the Oakwood community. The Puzzle of Light is a group of local musicians with backgrounds ranging from jazz and rock, to ethnic and world music. A treat for those attending this anniversary celebration.
Sound Sculptures are musical works of art that are played in a variety of ways: some are mallet instruments, some have strings which are hammered or bowed, while others are made up of chimes. This beautiful work of art and design was made out of bamboo, insulation and sound elements and will be on display the evening of the concert. The audience will be able to participate in the concert by having the opportunity to play the Sound Sculpture.
The city would like to thank the Oakwood Rotary Club Foundation for helping sponsor this special community event.
Please join us for this special evening. The concert is free and open to the public. Smith Gardens is located in the 800 block of Oakwood Avenue at the corner of Walnut Lane. Refreshments will be served at intermission along with a brief program recognizing the gardens as a community treasure. In case of rain the concert will be held at the Oakwood Community Center, 105 Patterson Road.
Wright Memorial Public Library's annual book sale starts Tuesday, Aug. 25 with a special preview night from 4 to 8 open only to members of the Friends of Wright Library. If you are not a member, you can sign up anytime the library is open. Individual membership is $6 and family membership is $12, with discounted memberships for seniors ($5) and students ($1). Preview night prices will be two dollars for each hardback book and one dollar for each children's book and all other items. The sale will take place in the Library Meeting Room. Preview night prices will be two dollars each for hardback books and one dollar each for children's books and all other items.
Wright Memorial Public Library's annual book sale starts Wednesday, Aug. 26 and runs until Sunday, Aug. 30. The hours are as follows: Wednesday, Aug. 26, 10 a.m. – 8 p.m.; Thursday, Aug. 27, 10 a.m. – 8 p.m.; Friday, Aug. 28, 10 a.m. – 6 p.m., Saturday, Aug. 29, 1 p.m. – 5 p.m. and Sunday, Aug. 30, 1 p.m. – 5 p.m.
Hardback books will be one dollar each. Paperbacks, children's books, videos, CDs, and all other items will be fifty cents each. Sunday is Bargain Book Day; a bag of books will be $2 all day. Wright Memorial Public Library is located at 1776 Far Hills Avenue in Oakwood. The web site is www.WrightLibrary.org.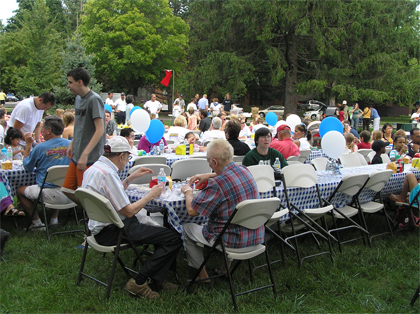 Photos by Lance Winkler
It was a celebration for young and old alike as the 67th annual Ice Cream Social, Oakwood's oldest tradition, was underway on Sunday afternoon at Shafor Park.