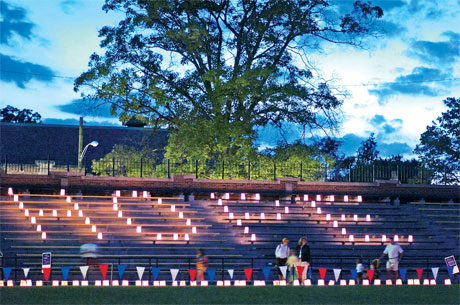 2008 photo by Leon Chuck
Luminarias will light the night during Friday's 2009 Oakwood Relay For Life.
The American Cancer Society's 2009 Oakwood Relay For Life kicks off this Friday night, July 10, at 6 p.m. at Oakwood High School's Mack Hummon Stadium. For 18 hours, until noon on Saturday, July 11, more than 250 participants representing 30 teams will walk, run, dance, or sleepwalk laps around the track, symbolizing the importance of teamwork in fighting cancer, the disease that never sleeps. But Relay For Life isn't a race, and it isn't limited to the teams who participate. "There's no finish line until we find a cure," the Relay banner reads.
Relay For Life is a community-wide event full of nonstop activities for all ages, designed to raise critical research and services dollars for the American Cancer Society's efforts here in the Miami Valley and across the country. In just two previous years, Oakwood Relay For Life has raised more than $140,000, and this year's goal is an ambitious $90,000.
The 2009 Oakwood Relay For Life is supported by event sponsors St. Albert the Great parish, Fifth Third Bank, Horenstein, Nicholson & Blumenthal, LLC, The Oakwood Register, Oakwood Rotary Club, primationDesign, The Agency Group, and Wright State Physicians Women's Health Care. Local news anchors Dan Edwards and Michelle Kingsfield from WDTN and Cheryl McHenry from WHIO are lending their talents to the event, which will also include:
Applauding Survivors and their Caregivers as they make the traditional first lap.
The moving Luminaria Ceremony at dusk (a little after 9 on Friday evening), during which candles are lighted in memory of those lost to cancer and in tribute to those still fighting, as their names are read aloud.
Silent auction open for bidding all night.
18 hours of fun for everyone, including themed laps, Midnight Pizza, and movies under the stars.
A huge children's activities area, featuring an inflatable SpongeBob SquarePants 5-in-1 activity center and carnival games; a $25 wristband is good for unlimited all-day all-night kids' activities.
Food choices ranging from dinner and breakfast by Bellyfire Catering to casual hot dogs, hamburgers, and popcorn, and homemade treats sold by Relay teams, and Starbucks coffee.
Entertainment through the night, and lots of surprises!
Every dollar spent at Relay stays with Relay, because all goods and services are donated. And every dollar raised by Relay For Life, which is celebrating its 25th year as the American Cancer Society's leading fundraiser, goes directly to the fight against cancer. To help Oakwood Relay For Life meet or surpass its goal, join us on the field for all or part of Friday night and Saturday morning. Bring your family, your friends, your neighbors, your coworkers, and your dollars. Do leave pets at home, please, and respect posted parking limits and neighbors' driveway access.
This Friday, be with us as we Celebrate, Remember, and Fight Back against cancer. Relay For Life literally changes lives, and as anyone who's ever attended a Relay can tell you, one of those lives will be yours.
For more information, to volunteer, or to learn about online giving opportunities, contact Ted O'Connor at (937) 371-5297 or Ted@primationDesign.com. And thanks to all who have supported our pre-Relay fundraiser.
---
Pictured are Oakwood residents, Constance Mahle (left) outgoing Dayton Rotary president, as she passes the gavel to Kathleen Carlson (right), the 2009-2010 president. This is the first time in Dayton's 97-year history that two women have served in this leadership role back-to-back. Ms. Mahle led a very successful year and Dayton was one of only 11 clubs in the region to earn the District's Presidential Citation. The club also boasted a net increase in membership under her leadership as well as continuing to serve the community through Dayton Public School projects and international service to the Maji Mazuri Project of Kenya. Again this year, thousands of dollars in Dayton Rotary Foundation Grants were directed to local organizations to support their ongoing programs. The Dayton Club has 331 members who represent local businesses, not-for-profit organizations and retirees who remain active and involved in service to the community. The new 2009-2010 international theme is The Future of Rotary Is In Your Hands. President Carlson looks forward to continuing the Dayton Rotary legacy but strengthening it through rededicated efforts in membership development, community support and international service. Dayton Rotary meets every Monday at noon at Sinclair's Ponitz Center and welcomes guests and visitors.