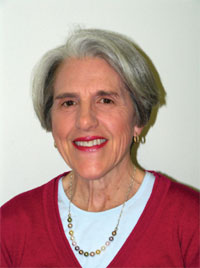 The Oakwood Register is pleased to introduce a new column to our newspaper. Maureen Burke, M.Ed., L.P.C.C., L.S.W. is a local counselor who deals with a number of life issues coming from her clients. Everything from drug use and teens to midlife crises to people experiencing life-threatening diseases and chronic illness. She is offering to address personal and community issues from our readers and reply with possible solutions. If someone has a particular question or problem that requires the advice of a counseling professional...
Q. My fifteen-year-old son has a chronic drug problem. We are at wits end because everything we've tried has resulted in a permanent change nor has removing privileges and having one of our numerous "talks." I know that other parents in the community are struggling with the same issue and feel helpless and hopeless.
A. Any addictive cycle is a symptom of an underlying, unresolved problem. The addiction cycle usually gets first page headline in our heads. Our hearts tend to run the show rather than our brains because it's our loved one and we are usually angry and hurting. The error we parents sometimes make is in looking at our children/teens as the "identified patient" versus looking at ourselves/our nuclear family system as the primary target for change and guidance. When one or more of the family members get healthier, the entire family system, including your son, will get healthier. Recommendations to consider might include:
• Self inventory – How much time do you spend with your son daily and how do you spend that time?

• Self-disclosure – Share ups and downs of your life and your intentions for getting help. Do you role model a non-addictive lifestyle, i.e. drugs, food, sex, gambling, work, TV, computer and video game, etc?

• Enabling behaviors – Certain behaviors inadvertently "enable" your son to continue in his addiction. You may want to check out information on the web under addiction and co-addicative behaviors.

• Family counseling – Seek help from a specialist in addictions and family counseling. Addiction is a family problem not a solo problem.

• Partnering – Create a team approach with family members, ex-spouse (if that is the case), school personnel and other parents. This enables the sharing of information and clarifies accountability and responsibilities.
If you have a question for Maureen to address contact her at maureenburke2003@yahoo.com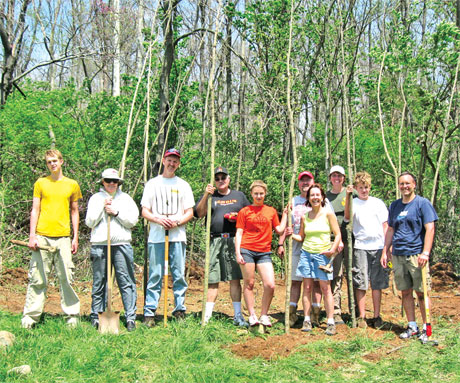 A tradition among the Native Americans when building their Wigwam Village was to include all the family members in this ceremonial event. Several Oakwood families including grandparents, their children and grandchildren volunteered their time to build a genuine Ohio wigwam that is now featured at Learning Tree Farm.
Learning Tree Farm has recently added a new Cultural Awareness Program entitled Native American & Pioneers on the Farm: Living the History. This program strives to portray the historical and contemporary lives of the early Native American and pioneer inhabitants of Ohio in an accurate, authentic and balanced manner.
The wigwam building event was organized by Karen Fitzharris, an educator at Learning Tree Farm, and Ray TwoCrows Wallen of the Cherokee Nation. TwoCrows also orchestrated the connection with Englewood Metro Parks to cut and collect the 14-foot willow saplings needed for the Wigwam poles.
Oakwood resident and Learning Tree Farm Board of Trustees member, Joe Fulford – second generation, was the architect behind the design of the frame of the shelter. This Wigwam shelter design is considered one of the best designs ever made. It was as safe and warm as the best houses of the early colonist. The wigwam's curved surface can hold up against the worst weather in any region. Helping Joe were other second generation members, Leigh Anne Fulford, Jeff Snyder, Jane Key and Mike and Karen Fitzharris.
The third generation and Oakwood students - Jenny Beth (senior - OHS), Perry (tenth - OHS) and Henry (fifth grade Smith) Fulford, Maddie Snyder (seventh grade - OJHS) and Jeff Key (tenth - OHS) - worked to clear the area on the back acreage at Learning Tree Farm to be used for the wigwam. Then, they gathered granite stones to make the central hearth which was used to heat the wigwam in cold weather, and was used for cooking in rainy weather.
As Joe drew a 14-foot diameter circle in the dirt, other families developed Native American digging tools to be able to create the holes in the ground to plant the willow poles. After bending the poles, the family members lashed the ends of each set of two poles. Traditionally, the poles were lashed together with the inner bark of the basswood that is no longer available in Ohio. To stay authentic, we use heavy jute twine, which was originally invented by the Natives. Three saplings were wrapped around the perimeter of the wigwam frame that made the structure sturdy. As with all original Native homes, a space was left on the east side of the wigwam for a door (East- Sun rises in the east –to wake you up in the morning and warm up the wigwam). A space at the top was left for a smoke hole to let out the smoke from the central fire inside.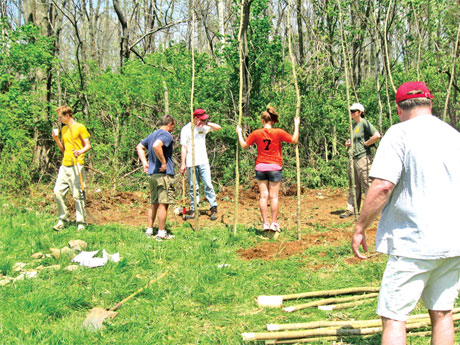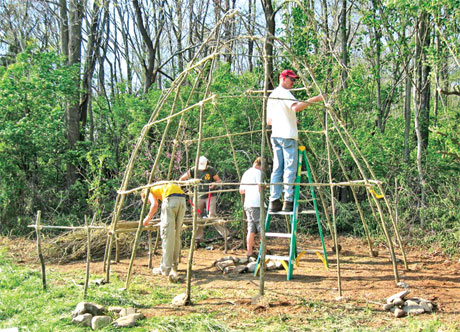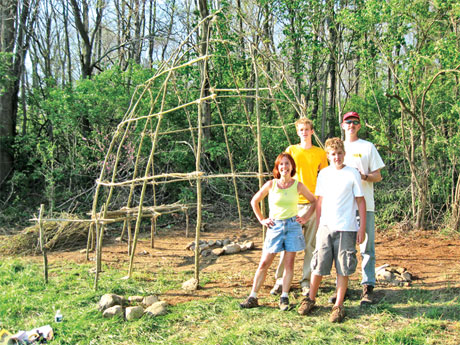 To complete the inside of the wigwam, the third generation Fulfords made the sleeping platforms from hard wood branches and jute.
So, where were the elders, the first generation? Grandma Fulford kept the families motivated and comforted throughout the project by providing cold water to quench our thirst.
TwoCrows ended this special Wigwam event, as with all Native American occasions, with a Thanksgiving Ceremony. This Native American ritual is a way to show appreciation to the Creator for this generations of families that came together to build this Learning Tree Farm Wigwam.
To all who helped, a special thank you in Cherokee - A'wado.
---
Logos@Work, LLC, a leading local supplier of embroidered apparel, screen printed apparel, signs, and promotional products has signed an agreement to purchase the property at 937 S. Patterson Blvd. currently occupied by Matrix Security. The transaction should be completed by October with a move slated for January 2010.
Vince Lewis, Chairman and CEO of Logos@Work said, "We have worked closely with the City of Dayton's Economic Development Team to make our vision of moving our business into the downtown area a reality." Lewis and his business partner, Chad Cannon, president of Logos@Work, are also currently working with Citywide Development and First Financial Bank to secure financing for the one-half million dollar project. Amanda Cox of the Gem Real Estate Group is brokering the transaction.
Lewis and Cannon have said they are committed to being an example of how a move to the downtown area can help growing businesses thrive. Cannon said, "This move is also strategic. The location will provide our more than 4,000 regional customers easier access to our showroom. Being in the center of the region with quick interstate access is ideal for our delivery vehicles." Cannon also indicated the floor plan is ideally suited for Logos@Work due to its full in-house production capabilities and need for expansion. The move will initially bring 18 new jobs downtown, and Lewis estimates that should grow to 25 or more within a few years.
Logos@Work, LLC is a combination of Skyline Promotions and Hooper Concepts, which were both acquired in 2008 by the 4 Iron Development Group. 4 Iron is a holding company started in 2007 by Lewis and Cannon with the intent of finding small businesses in the Dayton area to acquire and grow.
For John Johns a minor disappointment for him became a great blessing for others. Johns, music director and parish administrator at St. Paul's Episcopal Church in Oakwood, had planned to go to Nairobi, Kenya on a mission trip this summer. He had made his deposit for the trip. However, as time passed, he realized the trip was going to be more expensive than he could afford.
Johns had planned to go to Kenya with Rev. Judith Doran, the assistant to the rector at St. Paul's. In addition to the help offered by those on the mission trip, the orphanage was in dire need of a generator. That's when Johns' disappointment became a blessing. Rather than taking the trip deposit back when he backed out of the trip, he put it toward the purchase of a new generator at the orphanage. His donation along with other monetary donations from St. Paul's as well as a grant from the Diocese of Southern Ohio purchased the generator which now provides electricity to pump fresh water to the orphanage.
In Kenya, where the government controls the utilities, having private control of the fresh water supply allows the orphanage to provide better quality of life to the orphans.
John was informed by e-mail that there would be a plaque on the generator which reads, "For the Honor and Glory of God, the Rafiki Generator Project was made possible by the generous donations from: John W. Johns and St. Paul's Episcopal Church, Dayton, Ohio. Blessed on June 13, 2009 by Rev. Judith A. Doran and witnessed by friends and the family of Rafiki Children's Center led by Dr. Henry Njenga – Chairman of the Board 2009."
John Nganga, an Anglican priest, is the founder of the orphanage whose primary mission is to assist children infected or affected by HIV/AIDS in Kenya. In Swahili "Marafiki" means friend. Fr. Nganga sees a friend as one who loves unconditionally. "Everyone needs a friend, but to those in crisis it can mean the strength to meet each day with renewed hope." This is the kind of friend Fr. Nganga wanted to be to AIDS victims.
There are about 33 children at the orphanage, ranging in age from toddler to late teens. Johns learned of the orphanage when John Nganga visited St. Paul's some time ago. The installation of the generator at the orphanage is a dream fulfilled and John Johns is glad he could help turn a dream to reality at the Marifiki Orphanage.
Mindy & Garry Greene, Oakwood residents since 1989, would like to announce the double graduations they've recently celebrated.
Annie Greene (21), graduate of Oakwood High School class of 2006, graduated from McGill University in Montreal, Quebec. Her degree in International Development Studies was awarded with First Class Honors. Annie also completed a double minor in Political Science and Middle East Languages. Annie is currently proficient in French, Hebrew and Arabic. Annie has been accepted at the School of Oriental and African Studies (SOAS) at the University of London (U.K) for a Master's degree in Middle East Studies and will begin her studies in September.
Ethan Greene (18) graduated with Honors from Oakwood High School. Ethan concluded four years of Varsity Tennis, recently being awarded Most Valuable Player and the Coach's Award from Oakwood and was named 1st Team All-Area by the Miami Valley Tennis Coaches Association. Ethan has been accepted at The Ohio State University in the fall as an applicant to the Fisher School of Business.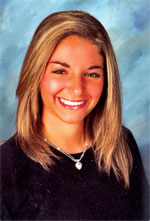 Ashley Warwar is embarking on a six-month Study Abroad Program through Denison University to Salvador de Bahia, Brazil on June 25, 2009. She is enrolled in a four-week Intensive Language and Culture Program, followed by a semester of classes at the Universidade Catolica do Salvador where she will take classes taught in Portuguese with other Brazilian students. She will reside with a Brazilian host family where there are no other native English speakers for her entire stay.
Ashley is a junior at Denison University and she is the daughter of Sam and Sherry Warwar.
---
Local Boy Scouts and Cub Scouts are planning a flag retirement ceremony as part of the Fourth of July Celebration at Delco Park in Kettering on Saturday, July 4. Scouts from Troops 236, 248, 320 and Pack 193 will participate in the ceremony in the parking lot of the Krispy Kreme Doughnut store on Dorothy Lane in Kettering.
Food, drinks and activities will be available from 6 p.m. until 8 p.m. All scouts in uniform will receive a free hotdog, chips and a drink. The ceremony will begin at 7 p.m.
If you have a flag that you wish to have retired by the scouts, please drop it off at the Krispy Kreme store before Saturday afternoon.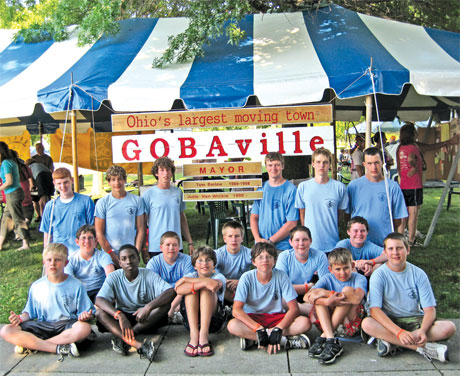 Sixteen scouts, eight adult leaders, seven days, 350 miles – the Great Ohio Bicycle Adventure! Scouts and leaders from Troop 320 at South Park United Methodist Church completed the Great Ohio Bicycle Adventure along with 2700 other riders last Saturday, June 27 and returned home with many great memories and stories to tell. The scouts rode their bikes from Norwalk to Elmore to Bowling Green to Defiance to Fostoria and back to Norwalk.
Along the way they visited a train museum in Bellevue, President Hayes' house in Fremont, went swimming in Lake Erie, saw the Islamic Mosque and Fort Meigs in Perrysburg, took a canal boat ride in Grand Rapids, saw a wind farm in Bowling Green and spent a day doing service and enjoying the lake at Camp Lakota in Defiance before finishing with a glass museum in Fostoria.
They were up before dawn packing up their tents and gear to move on to the next town, biking before the heat of the day whenever possible. They ate picnics and snacks on the road and spaghetti dinners in the evenings. The scouts found their preparation paid off as they were all able to complete the trip despite six days of biking more than 50 miles each day and the warmest temperatures of the summer. The scouts and leaders plan to continue biking for fun and are looking forward to their next high adventure trip.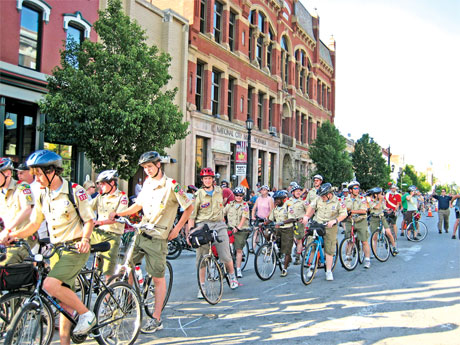 Scouts particpated in parade.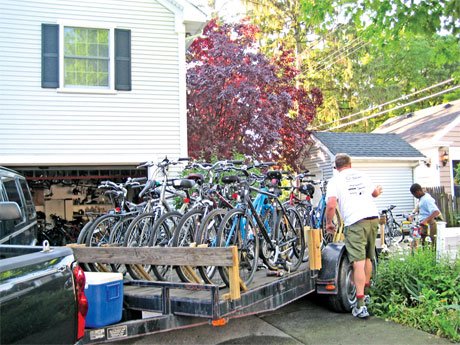 Loading the bicycles.