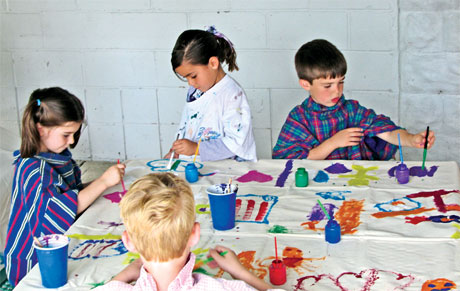 Photo by Ted O'Connor
Lange School students decorate banners for the Oakwood Relay For Life Survivors' Tent.
When the 2009 Oakwood Relay For Life kicks off at Mack Hummon Stadium on Friday, July 10, some of Oakwood's youngest citizens will have helped make it happen.
On June 8, volunteers from the American Cancer Society's Oakwood Relay For Life visited the Julian and Marjorie Lange School, transforming a calamity makeup day into a morning of fun-filled, educational activities for 60 kindergarteners. The children and their teachers participated in a mini-Relay, completing four activity stations. Children painted colorful symbols of hope on banners that will hang in the Survivors' tent at the July 10-11 Relay. They decorated bags for the luminarias that will be lighted at dusk on July 10, in the moving ceremony that honors those lost to cancer and celebrates those still engaged in the fight. In line with the American Cancer Society's educational mission, Lange students also participated in activities designed to promote cancer prevention through healthy, active lifestyles. They played Food Groups Bingo to highlight healthy eating choices for summer, and participated in a Slip Slop Slap (slip on a shirt, slop on sunscreen, slap on a hat) relay race to practice sun protection. The morning culminated with the children walking a Celebration Lap around the school grounds, with the adult volunteers cheering them on, just as the hundreds of Relay For Life walkers and runners will be cheered on July 10-11.
This partnership between Oakwood Relay For Life and Lange School was designed to support Oakwood's commitment to the 40 Developmental Assets of Early Childhood, including the importance of children being a part of the larger community, performing meaningful acts of service, and benefiting from adult role modeling of healthy lifestyles. "We're grateful to Oakwood Schools Superintendant Dr. Mary Jo Scalzo, Lange School Secretary Nanci Koepke, and the kindergarten teachers and aides for helping us arrange this connection," said 2009 Oakwood Relay For Life Chair Ted O'Connor. "We hope the children and their families will come out to Relay to see how their artwork touches people's lives. And we invite the whole community to join them."
Oakwood Relay For Life, which kicks off at Oakwood High School's Mack Hummon Stadium on Friday evening, July 10 at 6 p.m., is an 18-hour community event for all ages, incorporating moving memorials, tributes to cancer survivors, food, games, and activities as thousands gather to Celebrate, Remember, and Fight Back against cancer. Teams walk or run laps throughout the night as a reminder that the battle against cancer never sleeps. In its first two years alone, Oakwood Relay For Life raised $140,000, and the goal for this year's third annual event is an ambitious $90,000. Every dollar donated to Relay For Life goes directly to the American Cancer Society's efforts to eradicate the disease that touches every American in some way.
For more information, to purchase luminarias (minimum donation $10) to honor loved ones, or to sign up to participate in the 2009 Oakwood Relay For Life, go to www.oakwoodrelay.com, or contact Ted O'Connor at (937) 371-5297 or Ted@PrimationDesign.com.
The Oakwood Beautification Award Program is designed to recognize residential, business and rental property owners who have enhanced the beauty of our community through the use of flowers, shrubs, trees, and other landscape improvements; or by making architectural modifications or building improvements to exiting structures. Awards are given during the months of May, June, July, August and September. Monthly award winners will be selected by members of the Oakwood Environmental Committee and Property Maintenance Board, and will have a sign placed in their yard to recognize their beautification efforts.
If you would like to nominate a residential, business or rental property for consideration, simply pick up a nomination form at either the Oakwood City Building or Community Center, call the city offices at 298-0411, or email rich@oakwood.oh.us.
If you know of someone who has enhanced the beauty of our community by either planting shrubs, flowers, trees or with other landscaping improvements, or by making architectural or building improvements (including painting) to existing structures, and is deserving of recognition, we encourage you to take a minute and complete a nomination form (forms are available at the O.C.C. and city building) or simply call the city offices at 298-0411.
Congratulations to the owners of the following residential and business properties which were selected to receive:
Mr. Joseph Patko
534 Hathaway Road

Mr. & Mrs. John Lombard
400 E. Schantz Avenue

Dr. & Mrs. Hofeldt
158 E. Dixon Avenue

Mr. & Mrs. William O Cass
246 Wisteria Drive

Mr. & Mrs. Todd Miller
402 Telford Avenue

Ms. Rita M. Zimmerman
126 E. Hadley Avenue

Mr. & Mrs. William McCarty
221 Monteray Avenue

Mr. & Mrs. John H. Campbell
224 Grandon Road

Mr. & Mrs. Peter T. Sullivan
211 Oak Knoll Drive

Mr. Domenico G. Stolfo
21-23 Park Avenue

Mr. & Mrs. John Hutton
630 Runnymede Road
The Sam Andrews Educational Hall of Honor luncheon and induction ceremony will be held on Thursday, September 17, 2009. The following persons will be inducted:
Mrs. Pamela Lahman who taught at Harman Elementary School from 1973-1981 and E.D. Smith Elementary School from 1981-2003. Mrs. Lahman resides in Huron, Ohio.
Mr. Lester Steinlage who taught mathematics at Oakwood High School from 1972-1995. Mr. Steinlage resides in Englewood, Ohio.
A luncheon will be held at The Mandalay Banquet Center at 11:30 a.m. on Thursday, September 17, 2009, where the inductees, as well as previous recipients of the award, will be honored. The public is invited to attend the luncheon (cost is $16.50). To make reservations for the luncheon, please call or email Sandy Maresh at the Board Office at (937) 297-5332 or maresh.sandy@oakwood.k12.oh.us by Wednesday, September 9.
Thursday evening (September 17) at 6:45 p.m., prior to the game, the recipients will be available to meet with you on the Alumni Terrace on the southwest corner of Mack Hummon Stadium. Prior to the start of the home football game with Valley View there will be a brief awards ceremony.