School Board
Academic decathlon team takes gold at state
By Dawn Beigel

Oakwood High School student Sterre ter Haar showcased at last night's board of education meeting the talent that won her and fellow academic decathlon team members first place in Ohio's small school division of academic decathlon competition in March.
Students who take the course and go on to compete must be skilled in 10 different areas, displaying a well-rounded education, said Lori Kavanagh, who teaches the course and coordinates the team. She added, "they bonded very well" this past school year, and that there are 17 students who are signed up for the course next school year.
Presented before the board, ter Haar's work from the speech event for the scholastic B division is based on a true story about an armed intruder and a bomb threat in a high school building. A lesson woven into the speech talks about not taking life for granted. Her speech won her a silver medal in interview and a bronze medal in speech.
Ter Haar's team members Jonathan Pearson, Ethan Kissock and Nick Grilliot were also introduced to the board.
Also showcased at the meeting were activities from Smith Elementary School's music program this past school year, which included the use of unusual instruments, original compositions and technology applications. Nate Thompson, Smith music teacher, said the program concentrated on students "doing things," being active in every aspect of the program.
Some of the specific activities/events Thompson highlighted were integrating music into other areas of curriculum, collaborating general music with band and orchestra, sharing programs in which students write songs, a Veteran's Day program, a STOMP-style performance for the fifth grade DARE graduation, a sixth grade promotion program and beginning a guitar club. Thompson said next school year he plans to bring in Muse Machine for second and third graders and publish student compositions. One of the unusual instruments his students used last school year were "boom whackers," long plastic tubes that make different pitches when whacked against an object, which board members and meeting attendants tested to the song of "Ode to Joy."
Thompson introduced Calista Miller, an upcoming fourth grader, who performed a song she wrote herself called "Just Like a Tale," which tells about writing a story and becoming anything you want to become. Thompson said Miller's song inspired other students to compose their own music.
Thompson presented board members copies of a CD collection of songs composed by his students. Their music is available from iTunes.
Among commendations at the meeting, the school board recognized six students who have been accepted into the Dayton Philharmonic Youth Orchestra Program. They include Andra Bane, Josh Halpern, Clara Hofeldt, Ingrid Hofeldt, Amy Malone and Ellen Milligan. They will perform with the orchestra during the 2009-2010 concert series.
Among legislation, the board approved the following:
The employment of Kara Kahlig as an intervention specialist at Harman Elementary School for the upcoming school year. She is a recent graduate of the University of Dayton with a degree in special education.
The employment of Katherine Jenne as a social studies teacher at the high school for the upcoming school year. She is a graduate of Miami University with a degree in integrated social studies education and a minor in history. Her position is for one year only to replace a teacher taking a leave of absence for the upcoming school year.
The employment of Bruce Saunders (technology coordinator), R. Dion Myers (network specialist), Peggy L. Holton (prevention/intervention counselor) and Rande Chapman (alumni director), all effective from July 1, 2009-June 30, 2010.
The resignations of elementary safety patrol personnel Sarah Patterson and Ashleigh Spencer.
An agreement for FY2010 services with MDECA.
The 2009 proposed budget for the Wright Memorial Public Library.
Accepting a donation of $150 from district Superintendent Dr. Mary Jo Scalzo for the Women in Science Scholarship, and the donation of three backstop screens, one L screen and one split cage from Design Forum.
A resolution of support for the waiver day application for next school year.
The proposal for secondary summer reading and math intervention (presented for review at last month's regular board meeting). Oakwood Board of Education will hold its next regular meeting July 13, 7:30 p.m. at the district central office.
The Oakwood City Council convened on Monday, June 15 with all members present. In status reports, Mayor Judy Cook announced the names of citizens who will be part of the Athletic and Recreation Space Master Plan Committee, a group of 25 members of two each from 11 precincts plus three members of existing planning committees. They are as follows: Jeff Ireland, Cindy Koenig, Todd Howell, Jeff Snyder, Jeff Breidenbach, Barb Erbe, Beth Loew, Bill Wagner, Tim Lahmon, Julie Worley, Roger Crum, Rob Stephens, Mackensie Wittmer, Adam Woessner, Stephen Heyl, Tracy Cunningham, Joan Albrecht, Paul Redden, Dave Winch, Cindy Garner, John Haley, Skip Ordeman, Harvey Pierce, Dave Dickerson and Jeff Shulman. The Plan "will provide a guide for operations, maintenance and capital improvements of Oakwood Athletic and recreation facilities for the next 5-10 years."
In the Visitor part of the meeting, Dr. Ludolph Van Der Hoeven, Cindy Garner and Irv Bieser informed the council on progress being made with regard to the Hidden Garden at Houk Stream. Described as a former garden made decades ago and having been long-forgotten, the trio announced progress was being made on bringing it back to its former glory. Dr. Van Der Hoeven donated $20,000 in his late wife's name to the project. "An additional amount of $40,000 was also made from the General Fund for the Secret Garden and associated work at Houk Stream and an additional amount of $10,000 from the Bullock Endowment Trust Fund also was appropriated for restoration of the Hidden Garden at Centennial Park at Houk Stream."
An additional appropriation of $360,000 was passed unanimously by council "for the purposes of completing roadway alignment and associated improvements along Far Hills Avenue from Rubicon Road to the north corporation line and an additional amount of $200,000 to be expended from the capital improvement fund for the purposes of completing construction of a roadway from the new Old River Trail to the Old River Athletic Fields parking lot."
A purchase agreement was passed unanimously to acquire approximately 2,500 sq. ft. of land at the northeasternmost portion of the rear parking lot near Park Avenue. The purchase price was $50,000 for a 0.057 acre parcel, which translates out to about $1 million an acre.
In the City Manager's report, Norbert Klopsch mentioned that sewer rates had not been raised since 2007 but had been going up steadily due to rate hikes from both the county (5.6 percent) and the city (10.6 percent) over the past three years. Consequently, sewer rates starting in July would be going up 8.75 percent. This would cost the average family of four in Oakwood about $10 more on their quarterly billing.
The next City Council meeting will be held on Monday, July 20.
In Newsweek's annual poll of the nation's top 1,500 high schools, Oakwood High School was ranked 275. OHS is the sixth highest-ranked public school in Ohio (after Walnut Hills, Wyoming, Indian Hill, Chagrin Falls, and Solon high schools). In the Newsweek ranking, public schools are ranked according to a ratio: the number of Advanced Placement, International Baccalaureate and/or Cambridge tests taken by all students at a school in 2008 divided by the number of graduating seniors.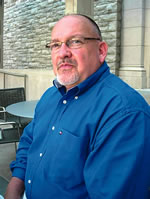 Oakwood resident and Sinclair Community College English teacher Gary Mitchner was honored last week at the college's graduation Convocation by being named Professor Emeritus.
Mitchner started out teaching English at Oakwood High School for one year from 1971 to 1972. He began teaching at Sinclair and among his many accomplishments founded the Paul Lawrence Dunbar Memorial Poetry Prize and the Helen Peterson Literary Prize. He was editor of Flights, the English Department's literary magazine. He served on almost every committee on campus: assessment, merit, student conduct, faculty senate and grants director among many others.