Off to the races from Oakwood High School
"That's one small step for man, one giant leap for mankind." Neil Armstrong's words seem very fitting for an event that happened in Oakwood this past weekend. Many walkers and runners participated in the 8th Annual Breast Cancer 5K CARE Walk held on Saturday, May 9th and raised more than $17,000 with monies still expected from Thursday's Milano's fundraiser and some late donations.
Judy Cook, mayor of Oakwood and a breast cancer survivor, is pleased that this walk continues to be important to so many in Oakwood. "So many times, you see the passion and enthusiasm wane after a few years, but not with this bunch of volunteers. These women on the CARE Walk Team make this happen year after year, and the walk gets bigger and better each year. This is such a great event that does so much good for the people right here in Dayton."
Many volunteers from the CARE Walk team, local scout troops, Oakwood Giving, and other service groups helped process more than 700 walkers and sell shirts, puppies, and Laura's pink ribbon cookies for a smooth start right at 9 a.m. Dan Edwards of Channel 2 News and his son entertained the crowd with music and dancing before the walk began and directed people to the Health CARE booths, door prize tables, refreshments, and video contest.
After the walk, the Breast Cancer Foundation and Breast Cancer Task Force presented the awards and scholarships to the winners of the Breast Cancer Public Service Announcement Contest that ran the month of April on YouTube. Nine students from Centerville, Kettering, Miamisburg, Oakwood, and Stivers high schools won $7,500 for their winning entries - $1,000 first place and $500 second place for each participating school.
After the awards were announced and the videos shown, Kathy Haught, president of the Breast Cancer Task Force, presented a traveling school trophy to the overall winner of the contest, Veronica Easley of Stivers High School. Her stop motion video used the female figure of the logo of the BCTF to inform viewers of the statistics of breast cancer incidence and encourage women to be screened regularly with clinical exams and mammograms.
Todd Sobol, father of student winner Adam Sobol, said, "This contest is great. It does exactly what needs to be done. It gets kids talking to their parents. The kids and parents then invite their family and friends to watch the videos and that gets them talking about breast cancer and the importance of early detection, such as mammograms, to save lives. It's a great public awareness tool."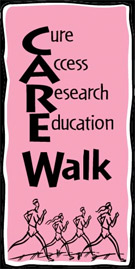 The Breast Cancer Video Contest is just one of many programs that CARE Walk has supported over the past few years. Comprised of 38 women, the CARE Walk team is volunteer-driven, so 100% of the proceeds go to its mission of helping the underserved here at home in the Dayton area. Besides the video contest, CARE Walk has also supported free mammograms and screenings for the underserved in the Miami Valley, the Sister-Sister Breast Cancer Support Group, Paint the Square Pink that kicks off breast cancer awareness month on Oct. 1st of each year, and other community events and programs.
Besides its large volunteer base, CARE Walk is generously supported by many local businesses and organizations, which contributed more than 75 door prizes this year. This year's CARE Walk was sponsored by Alley Cat Designs, the Asian Arts Center, Blue Turtle Toys, Clark's Mr. Prescription, Dr. Danny Reveal, Deck the Walls, Fazel Rug Gallery, Invoked Projects, KTC Quail, Laura's Cookies (of DLM), Miami Valley Hospital (a major sponsor), Nancy Chifala Design, Oakwood Register, Standard Register, and Whispers, as the lead sponsor once again.
A little over a hundred years ago, people thought the Wright Brothers were crazy with their flying machines. This CARE Walk Team sincerely believes in a world without cancer and they are working hard to make it happen. And they may be right—after all, who would have believed 50 years ago that man would walk on the moon? Why shouldn't we believe our children will live in a cancer-free world someday?
For more information about CARE Walk, go to www.carewalk.org.
By Dawn Beigel

Seven students from Oakwood High School's Speech & Debate Team have qualified for national competition following their success at the state level in March.
The students, two of whom performed at last night's Board of Education meeting, will represent a variety of speaking talent when they attend the Nationals next month in Birmingham, Ala. Presenting dramatic interpretation will be Joanna Draper; doing national extemporaneous speaking will be Siobhan Tellez; and presenting policy debate will be Jeff Nagel, Maggie Light-Scotece, Caroline Paule and Colin Ward. Accompanying them will be Tyler Rife, who did a humorous interpretation piece at the April regular board meeting.
Last night, Draper did a couple of excerpts from a story about a five-year-old girl who is caring for her terminally ill mother, and Nagel entertained with a speed reading of Draper's performance.
Also highlighted in the meeting's curricular showcase was OHS senior Alex Harmony who recently returned from a volunteer medical mission in Ghana. She presented a slide show and talked about her 10-day experience as a pediatric aide with Our Chance International, the organization responsible for the mission. Harmony accompanied her aunt, Jill Stoller, who is a pediatrician with the group and goes on the African mission annually.
Harmony said medical professionals from the group performed 200 surgeries in a five-day span, mostly for refugee children from Liberia and also orphans. She was responsible for pre- and post-op duties with the children, primarily keeping them content with activities and providing them with toys and gifts.
"They (the children) called me 'Auntie Alice,' because no one in Africa could say 'Alex,' said Harmony. "They were so thankful…I've never worked with kids who had absolutely nothing. (It makes) you realize how much you have that you take for granted."
Harmony, who says she wants to go into pediatrics, is running a T-shirt drive to benefit African children on a future mission. She has organized the drive through her school's National Honor Society and Student Council. Donated shirts can be dropped off at the high school through the end of this month.
Among commendations at the meeting, the school board recognized the following:
*A number of OHS juniors recently inducted into the high school's National Honor Society. They include Mason Cammel, Chanon Conner, Anna Deitz, Tyler Dillon, Marcel Georgin, Colleen Hallinan, Liam Jackson, Meredith Livingston, Erin Maher, Audrey Maney, Katie Mauch, Sarah Oda, Hilary Paisley, Jonathan Pearson, Will Reece, Ben Roess, Lyndsay Seery and Sarah Wilhoit.

*The high school's "The Dome" students who took first place for newspapers from the Ohio Scholastic Media Assoc. Individual awards went to Chelsea Bolger, Annabeth Kane and Courtney Hutton who received Honorable Mention for their articles; Tristan Schnader who received an Excellent for his articles on parents in the Iraqi War; and Michael Krumholtz who received three Superiors for his articles on football and soccer.

*All students who participated in the Ohio State Bar Assoc. Video Contest. Winners were Sami Pavlofsky and Merideth Snead (second place); and Will Garner, Garrett Luther, Lauren Luther and Graham Roberts (third place).
*OHS senior Julia Sizek who received the 2009 Franklin B. Walter All-Scholastic Award last month in Columbus.
Among legislation, the school board approved the following:
*An anonymous donation of $2,000 to the high school.

*An increase school fees next school year. There is a $10 increase for Lange, Harman and Smith schools.

*Continued membership in the Ohio High School Athletic Assoc. for next school year.

*Adding a Local Professional Licensure Committee meeting on May 26 at 3:45 p.m. at the central district office.

*The proposed elementary summer reading and math camps as presented for review at last month's regular meeting.

*The resignation/retirement of ESL tutor Judy Boyle effective June 30. She has been with the district for four years.
Oakwood Board of Education will hold its next regular meeting June 15, 7:30 p.m. at the central district office.