8th annual CARE Walk 2009 this Saturday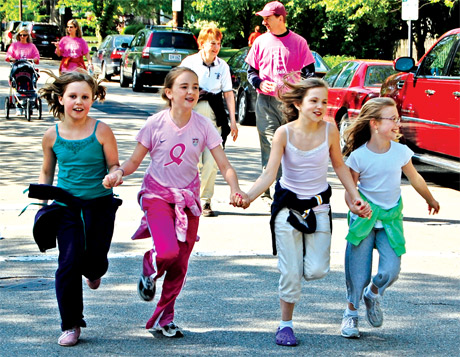 Cassidy Fry, Abby Welch, Hannah Knorr, and Kate DeLon participate in CARE Walk 2008 with more than 600 other walkers and runners. The 8th annual Breast Cancer 5K CARE walk will be this Saturday, May 9, starting at 8 a.m. Lots of fun for a good cause that raises money to help people here in Dayton. For more information, go to www.carewalk.org or call 395-9255.
The Oakwood City Counsel met on Monday with all counted as present. Mayor Judy Cook briefed the council on her trip with City Manager Norbert Klopsch to Washington, D.C. on a "Fly-In" along with 120 other regional leaders. She also gave a short promo for the Dayton Philharmonic Volunteer Association Designer Show House & Gardens at 1215 Runnymede that will be on display through May 16.
Of particular interest was the announcement by Assistant City Manager Jay Weiskircher that Requests for Proposals were sent out to about 20 separate consulting firms regarding developing a Master Plan for a sports/recreation complex for the Oakwood community. Of the RFPs sent out and returned by the firms, the city staff has reviewed all 20 and the following five firms have been selected for interviews:
• CR Architecture & Design - Cincinnati, Ohio
• Kinzelman Kline Gossman - Columbus, Ohio
• PROS Consulting - Indianapolis, Indiana
• Michael Shuster Associates – Cincinnati, Ohio
• Woolpert – Dayton, Ohio

Weiskircher also allowed that each firm selected has between two, four and six outside firms working with them on the proposals. The city anticipates having a firm hired by mid to late May.
Meet the OHS 2009 Distinguished Alumni recipients...

By Amy Borgert
Petah Coyne

People may say "My work is my life", but they have nothing on Petah.
Born in Oklahoma City, Petah was an army brat, traveling everywhere, until finally settling in Dayton, Ohio at the age of twelve. Her upbringing was markedly different from most, as she was not permitted to watch television, but instead gained insight and education through worldly experiences such as living among the Amish, in the south of France, or visiting Japan and Mexico. These experiences would ultimately shape and influence her life's work.
Petah's education was varied, rich and her schooling was planned to make more time for art. In addition to being home-schooled, she took classes at the University of Dayton while attending Oakwood High School and graduating from OHS in 1972. From there she continued her studies at Kent State University, and graduated from the Art Academy of Cincinnati, from which she was also awarded an honorary doctorate degree in 2001.
She moved to New York in 1977, where her work and her life melded as she did a dead fish installation in her apartment, and then relocated it to a neighborhood tree, becoming a public artwork. In addition to Chinatown market fare, Petah began working with sticks, mud, black sand, and car parts, and changes materials every few years to approach the creative process from a fresh angle. The inspiration for each change is often taken from one of her many travels abroad. So far, materials have also included wax, satin ribbons, artificial flowers and birds, birdcages, and most recently, taxidermy animals, Madonna statues, and horsehair. Coyne's creations are extremely labor intensive, and their multiple layers of materials relate to the passage of time it took to complete the work, as well as the artist's personal memories and the ones the objects evoke in us. She has been influenced by the sculptures of Eva Hesse and Louise Bourgeois.
Anne Wilson Lloyd has written of Petah's work," Petah Coyne's enigmatic and powerful sculptures have been internationally acclaimed for their ability to elicit a complex range of emotions about the human condition. Her sculpture is considered as amongst the most influential in contemporary American sculpture."
In a 2002 BOMB Magazine interview with Lynne Tillman, Petah was described as "a burst of drive, and grace, too, of humor, delight and fun, when you can catch her." To catch her would most certainly be catching her in action - catching her at work. Her work days involved getting up early to ride her bike to the studio, arriving by 7 or 8 a.m., working a 12 hour day with assistants, until she pedaled back home in the evening. At home, she worked for another three or four hours, taking care of any office work. Another 12-hour day is saved for office work, and Fridays were consumed with teaching and looking at art. On the weekend, it's back to the studio, this day all to herself, or with reading and paperwork. She has described herself as "the most hard-driving woman you'll ever want to meet."
To see Petah's works, simply google "Petah Coyne", and you will be rewarded with a bounty of sculpture and script on all she has done with her incredible talent and creativity – it can hardly be described here.
Edman Gray is a man accomplished in many areas of his life. As student, naval officer, and businessman, Gray's success in life has not been surprising to those that know him.
Gray, a graduate and Salutatorian of the class of 1957, continued his education at Yale University, where he was a member of Phi Gamma Delta. After graduation he entered Navy Officers Candidate School, and served as Weapons Officer aboard the USS Bausell at the rank of Lt., J.G. until 1965.
After starting his career in sales at Procter and Gamble in New York, Gray returned to Dayton as a salesman at Ward Steel Service Co., and has been serving as President of the company since 1980.
Talented not only in business, Edman Gray is also a generous volunteer and community leader, holding top leadership and critical advisory positions in virtually every organization in which he has participated. He has given back to the several communities which he belongs: professional, school, church and organizations.
Gray has been a board member of the Cincinnati Chapter of the Metals Service Center Institute since 2000, as well as serving as committee member, chairman, and chapter president. He has participated in the Oakwood City Schools as a Committee member, and at the Sinclair Community College Foundation, as a board member since 2005. In his church, Westminster Presbyterian, he has served as a deacon and elder, trustee and trustee president, and currently serves on their Stewardship & Finance Committee. Organizations in the area that he also supports include The Muse Machine, Rotary Club of Dayton, Children's Medical Center, Daybreak, Inc., Big Brothers/Big Sisters, and Building Bridges/George Foster Home.
What is most remarkable about all that Edman Gray has done for his community is that his contributions go beyond attending meetings and taking on tasks. In several of these organizations, he has reached out and touched people directly. Through his work with Building Bridges/George Foster Home, Gray has helped young people deal with school; find jobs; navigate the justice system; find and afford doctors; get to work; figure out child care and transportation issues; as well as be there as a counselor and friend to many who may have never had an involved father. His workwas felt in critical times – when someone needed a job, when someone was going into or coming out of jail, to stand up as a best man, to talk about critical life issues.
If you knew Edman Gray, you would know his patient but firm demeanor, that he is unselfish and extremely generous. Many in the community have had the benefit of knowing this man, through his career in business, or through one of the many community organizations in which he has participated. He is a distinguished alumnus, and community leader, an example for what success can be.
Cy is cement. Professionally and personally, Cy Spurlino lays foundations, the starting point from which many great things have grown and developed. Whether it is a Las Vegas Landmark, or a young child learning the reward and importance of philanthropy, Cy Spurlino has helped many create that first framework.
A graduate of the Oakwood High School class of 1953, Spurlino attended Northwestern University, where he graduated with a bachelor's degree in Mechanical Engineering, and master's in Business Administration. His industry accomplishments span the country, but began at Moraine Materials, a Dayton-based concrete, sand and gravel supplier, where he rose to the position of President. After leaving Moraine Materials in the mid-70s, he purchased Arrow Concrete in Columbus, and served as President of the Ohio Ready-Mixed Concrete Association. From there he performed consulting work across the country, formed the company that would be part of building the Mirage in Las Vegas, NV. He currently owns Utah-based Westroc, Inc., and is active in The American Concrete Institute, The National Ready Mixed Concrete Association, as well as others.
In addition to be a strong support in the concrete industry, Spurlino has built many a foundation of philanthropy in individuals as well as communities across the country. Cy has been active in United Way activities for over thirty years, thru donations of time and money to groups in Ohio, Utah and Florida. He lends support to those that are already doing their best to help others – in the case of a man named Alex from Tampa, he has assisted him in giving away over one thousand bikes every year to needy individuals.
He has given of himself, by literally donating gallons of blood. And what may be most important, he has taught younger generations the importance and reward of philanthropy through example. For the last three years, Cy has been giving the school-age children of his employees an amount equal to $50 times their grade level for charitable purposes. Their instructions: give to something you care about, that is worthy, and needed. He asks only that each child write and tell him about what they did. The success speaks for itself when he reads the letters of the youth that used their money to help a young single mother have Christmas and Thanksgiving for her family, of a child that used their funds to purchase hats, coats, gloves and blankets for children and parents that were unable to stay in shelters.
And his gift of philanthropy is felt in Oakwood as well, where his generous donations have benefited students. From 2001 to 2003, Cy funded the creation of the District's current technology platform, including hardware, software, wiring, and transmission lines. His support also included a tribute to his aunt Gretchen Smalley, a former principal of Harman Elementary School, in the form of a beautiful sculpture garden – a quiet spot enjoyed by young students, their families, and the community at large
These are a mere sampling of all the good Cy Spurlino has done with his tremendous skill and generous heart. Like cement, Cy has laid the groundwork for a lot of great work to be done in the future – by budding young philanthropists, by professionals in the concrete industry, and to the community of Oakwood and its students.
Join us in recognizing Petah Coyne, Edman Gray and Cyrus Spurlino at the OHS Distinguished Alumni Award dinner and presentation at NCR Country Club on Friday, May 15th. A social hour, with cash bar, will be held from 6 until 7 p.m., with dinner and presentations following. You may purchase tickets for $50 each by calling Rande Chapman at the OHS Alumni office, (937) 298-8711. RSVP deadline is Friday, May 8.