Rotarians from Chile get warm Oakwood reception

By Dolores Wagner

Five young professionals from Chile, South America, had a week-long look at Oakwood and its popular surrounding "spots." Under the Rotary International Group Study Exchange Program, Oakwood was one of six local Ohio towns hosting this group of Rotarians headed for the District Conference in Cincinnati, Ohio.
The week kept them busy visiting significant businesses, as well as cultural and "fun spots." Their schedule included a variety of events - a tour of Hawthorn Hill, visits to Harman School and the Oakwood City Building, where City Manager Norbert Klopsch explained the workings of the city, had lunch at C'est Tout and tea at Central Perc. They enjoyed an evening at Crown Plaza with David Greer's Dixieland Jazz Band, and Thursday evening, they tipped a beer mug or two at Dublin Pub.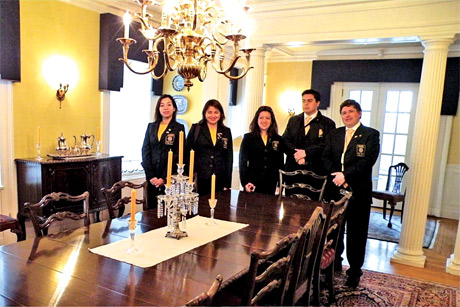 Photo by Ed Rodabaugh
The five Rotary visitors inside Wrights' Hawthorn Hill dining room.
Oakwood Rotarians were given a chance to meet them at their Friday morning meeting, and hear a little about their families and various home cities through short slide presentations.
Alejandra Bustos, an elementary school teacher, lives in Chile's capitol, Santiago. She teaches in a country that boasts a 96.5 percent literacy rate. Class size is 45 children," she said. "My great passions are children and teaching." She also told Rotarians that the second most popular sport in Chile next to soccer is rodeo.
Klaudio Leal, a 33-year-old civil engineer from Lebu, Chile works with his father's forestry company. He also teaches statistics in the university located in his town. He is married, has two children - a daughter, eight, and a son, just five months old, adding "I hope son become beautiful like your country [sic]." Marianela Matta, of Chillan Viejo, is a civil agricultural engineer with a specialty in water resources. While finishing her master's degree, she works in the Water Resource Department for the University of Concepcion, an institution of 80,000 students. The sponsor for her visit to the United States is an all-woman's Rotary Club. Along with photos of Chile's incredible physical beauty, she informed us that the national bird is the condor.
Angelica Soto, a psychologist and actress, lives in Los Angeles in the Bio Bio Region of Chile. She loves to sing, and had an opportunity to show off her voice when the
group visited the Crown Plaza to hear David Greer and his Dixieland Jazz Band. She has developed a special program in psychodrama, working especially with women who suffer depression. Her slide presentation included a photo of her transportation method – a horse and cart.
Team Leader Russel Cabrera is a journalist who lives in Chillan. He is director in chief of the second oldest newspaper in Chile, La Descusion. His past professional experience includes editor of two official magazines for the Chilean Air Show, and press advisor for the Chilean President of the Senate. The newspaper business in Chile is much like that of the United States, according to Cabrera, from the growing use of sophisticated information technology to the declining number of subscribers to daily newspapers. Of Chile's population of 16 million, 32 percent live in Santiago, he said. Cabrera has also served as past president of his Rotary Club.
The group visit ended after the Friday morning meeting with coffee at Starbucks before leaving for Cincinnati to attend the Rotary District 6620 Conference.
During their week's stay, the five guests were housed and hosted by four Oakwood Rotarians - Stan and Ann Herr, Dick and Marsha Stevens, Wesley and Rita Boord, and Bill and Ann Scheurmann. The Group Exchange visit was chaired by Susie Saleem.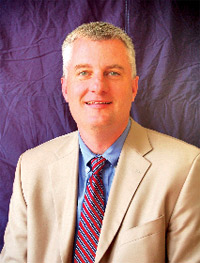 At its April 13, 2009 meeting, the Oakwood Board of Education accepted the recommendation of Superintendent Mary Jo Scalzo and appointed Mr. Paul J. Waller as the Oakwood High School Principal effective August 1, 2009. Mr. Waller will replace Mr. Joseph R. Boyle who is retiring from the Oakwood School District on July 31, 2009 after eleven (11) years at the helm of Oakwood High School.
Mr. Waller currently serves as the principal of Fairfield High School in Hamilton County, Ohio, where he has been employed since 2003. Prior to that, he was a middle school principal and an assistant high school principal in the Oak Hills Local School District. He began his career as a chemistry teacher at Princeton High School in Cincinnati. Mr. Waller earned his BS in Science Education from The Ohio State University, his MS in Administration from the University of Cincinnati, and his Superintendency credentials from Xavier University. He is married and he and his wife are the proud parents of three children.
Mr. Waller's appointment comes after an intensive selection process that occurred between January-March and included the direct participation of almost 50 stakeholders. From a pool of seventy (70) official inquiries, 25 complete document packages were received and carefully screened. Nine (9) candidates were selected for Phase 1 interviews with the superintendent, director of educational services, and director of athletics and student activities. Five (5) candidates were selected for Phase 2 interviews with the remainder of the district administrators. Two (2) finalists were sent forward to meet with staff, parent, and student interview teams on March 23.
"We are very pleased to welcome Mr. Waller to Oakwood's leadership team," stated Dr. Scalzo. "Many of Mr. Waller's references described him as a collaborative administrator who engages staff, students, and parents and leads them to produce exceptional results. One former superintendent who worked with Mr. Waller offered, 'He is the top administrator with whom I have ever worked.' I look forward to the contributions by all stakeholders that Mr. Waller will inspire."
"I certainly think they've selected an outstanding individual to be principal at Oakwood High School. He has a reputation of putting what is best for kids foremost in his decision making," said outgoing OHS principal Joe Boyle. I believe he will bring more youthful enthusiasm and the energy of a younger person to the principalship. He is super qualified. He has experience in a variety of senior high and middle school positions. He will do a wonderful job for both the students of Oakwood and the entire Oakwood High School community."
"I am eager to apply my administrative experiences of the past 10 years to the culture of excellence that is so apparent at Oakwood High School. I appreciate the investment of the staff, students, and parents in the interview process and thank the Oakwood community for this opportunity," Mr. Waller said upon being approved by the board.
Mr. Waller's appointment brings closure to a year of administrative searches. Since last August, the Oakwood Schools have employed Mrs. Allyson Couch as Principal of Harman School, Ms. Pamela Taiclet as the district's Director of Educational Services, and now Mr. Paul Waller as Oakwood High School Principal.