Egg Hunt Mayhem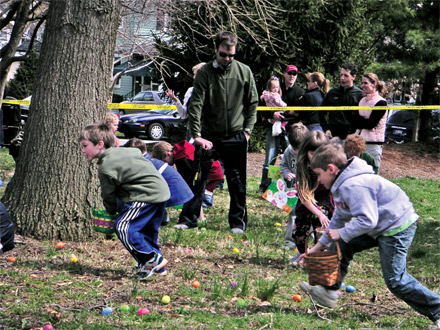 The annual Oakwood Easter Egg Hunt commenced at noon last Saturday with dozens of families and eager youngsters having fun gathering eggs and even getting a visit from the Easter Bunny.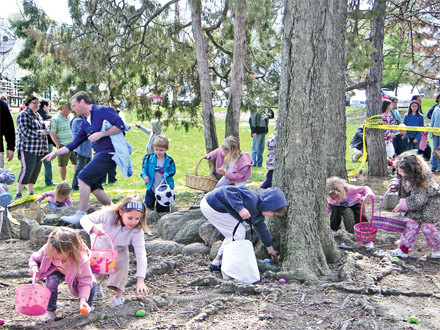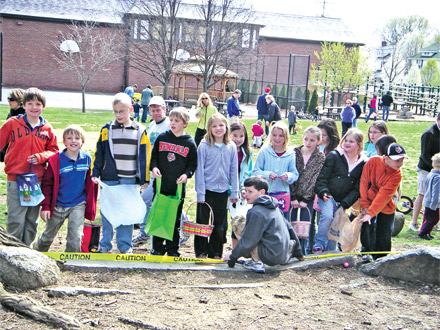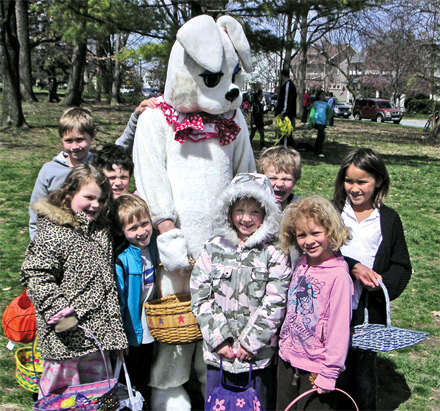 The event was sponsored by FOP Lodge 107 and had a lot of help from Boy Scout Troop 101.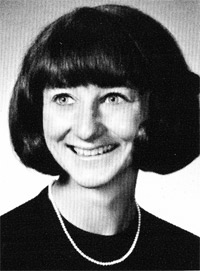 The Oakwood High School Alumni Board is pleased to announce that Ms. Petah Coyne has been added to the roster of Distinguished Alumni Award recipients for 2009. Ms. Petah Coyne, Class of 1972, graduated from the Art Academy of Cincinnati and resides in New York City. She is a visual artist best known for her larger than life abstract sculptures using natural and man-made materials. Her pieces have been exhibited in galleries, museums and public collections across the United States. She has been invited to visit Japan and Italy to study their art and to Ireland to exhibit her work during their cultural celebration.
The other two 2009 Distinguished Alumni Board recipients, announced last week, are Mr. Edman Gray and Mr. Cyrus W. Spurlino.
We invite the public to join us in celebrating Ms. Coyne, Mr. Gray and Mr. Spurlino's accomplishments and contributions at the OHS Distinguished Alumni Award dinner and presentation at the NCR Country Club on Friday, May 15th. A social hour, with cash bar, will be held from 6 until 7 p.m., with dinner and presentations following.
You may purchase tickets for $50 each by calling Rande Chapman at the OHS Alumni office, 937-298-8711.
---
New principal hired for OHS

By Dawn Beigel

The Oakwood Board of Education approved at last night's meeting the appointment of Paul J. Waller as principal of the high school, effective Aug. 1. He replaces Joseph Boyle who is retiring from the district after 11 years at the school.
Waller has been principal at Fairfield High School in Hamilton County since 2003. Before that, he served as middle school principal and assistant high school principal for Oak Hills Local School District, and was also a chemistry teacher at Princeton High School in Cincinnati. He has a bachelor's degree from Ohio State University, a master's degree in administration from the University of Cincinnati and superintendency credentials from Xavier University. He and his wife have three children.
"I'm eager to apply my administrative experiences to the culture of excellence that is so apparent at Oakwood High School," said Waller. "I know I have big shoes to fill after Mr. Boyle. I certainly feel I'm already a part of the community."
Waller added how impressed he is with the district's mission statement that includes goals and values he said he personally lives by. He was also attracted to OHS's recognition as a premium school, he said.
"We're very pleaded to welcome Mr. Waller to Oakwood's leadership team," said Superintendent Dr. Mary Jo Scalzo. "Many of (his) references described him as a collaborative administrator who engages staff, students and parents, and leads them to produce exceptional results. I look forward to the contributions by all stakeholders that (he) will inspire."
In other business at the meeting, the board approved a revised plan for the identification of and services for gifted students. Members of the Gifted Intervention Specialist team shared with the board the changes, which were a function of the Gifted Evaluation Team's (GET) review of the program in 2007. Changes also included those in Ohio's "Gifted Rule" that went into effect last July.
GET made a number of recommendations, such as curriculum compacting in elementary math, providing specific social-emotional support services and considering ways to do fewer things better instead of more things less well. The state's "Gifted Rule" requirements are to continue to assess for giftedness in all four domains (superior cognitive ability and achievement, specific academics, creative thinking and visual/performing arts), and disclosing and communicating with parents. The rule does not require districts to offer gifted services.
In looking at where gifted fits in the district's Professional Development Plan, GET proposed "hands-on" workshops, PLCs (professional learning communities), one-on-one time with gifted teachers and co-teaching with gifted teachers. Their goals are for all teachers and stakeholders to develop skills and dispositions to serve appropriately gifted students' academic/cognitive needs.
Parents from GET said they thought reviewing the program was "a great time to get together" and that "it's always going to keep evolving." Another felt it was "a very comprehensive process."
"The work of our group has been tremendous," said curriculum director Kim Kappler Hewitt, who commended the high school/junior high gifted specialist Amanda Ammer.
Among other legislation at the meeting, the board approved the following:
*Employing Thomas Griffith as an art teacher at the junior high school for next school year.

*The Math Pathways program scheduled to be phased in during the next two school years.

*The resignation and/or retirement of five individuals—Leslie Allen (administrative assistant to the curriculum director), effective July 31; Rande Chapman (high school library aide), effective Aug. 17; Nancy Dankof (intervention specialist), effective Aug. 17; Bill Tant (science teacher), effective Aug. 17; and Fayanne Saunders (first grade teacher), effective June 9.
Among commendations at the meeting, the board recognized the high school speech and debate team who finished seventh at the state competition last month. Taking first place were sophomore Emma Couch in original oratory and junior Tyler Rife in humorous interpretation. The two, who will advance to the nationals, demonstrated their winning presentations.
Couch acted out a piece she wrote that is a mockery, and emphasizes society's abandonment of literature. Rife acted out an excerpt from the book Charlie and the Chocolate Factory, impersonating some of the main characters.
OHS senior Siobhan Tellez placed third in the 4-Way Speech Contest at Wittenberg College and sponsored by Rotary District 6670. The top four OHS students who were winners of the Oakwood Rotary Speech Competition: Tellez, first place; Joanna Draper, second place; Landon Gray, third place and Jeff Nagel, fourth place, also attended the competition and were in-turn among the 25 top students from the southwestern Ohio region.
"It's such a diverse organization," said coach Brianna Doyal of the team. Twenty-two of the approximate 50 team members qualified for state, she said.
Also among commendations was the board of education for receiving the Effective School Board Gold Level Award from the Ohio School Boards Assoc. at the regional
conference last month.
Oakwood Board of Education will hold its next regular meeting May 11, 7:30 p.m. at the central office.