The Oakwood High School Alumni Board is pleased to announce the Distinguished Alumni Award recipients for 2009. The award, which acknowledges OHS Alumni who have made significant accomplishments in their careers and communities, will be given to two outstanding individuals this year: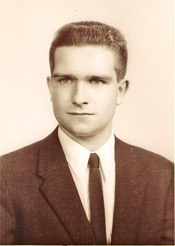 Mr. Edman Gray, Class of 1957, is the president of Ward Steel Service Co., where he returned to work after graduating from Yale University and serving in the U.S. Navy. He has served on the Board of several local non-profit organizations, and is involved in Oakwood, Yale, fraternity, and U.S. Navy alumni organizations as well.
His biggest contribution however, could be shared by the dozens of at-risk young people he has mentored since 1990 through Building Bridges, the George Foster Home and Big Brothers, Big Sisters – an inspiring figure, making a difference.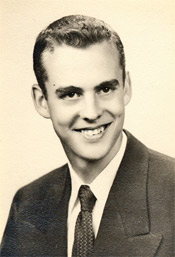 Mr. Cyrus W. Spurlino, Class of 1953, was the vice president of Moraine Materials Company until 1974 and continued on to act as president for several concrete and materials companies across the United States until retiring in Tampa Bay.
Among his countless philanthropic roles are: a supporter of the Oakwood schools, a role model for future philanthropists and humanitarians, and a hands-on volunteer and supporter of United Way efforts around the world.
Citizens are invited to join in celebrating Mr. Gray and Mr. Spurlino's accomplishments and contributions at the OHS Distinguished Alumni Award dinner and presentation at the NCR Country Club on Friday, May 15. A social hour, with cash bar, will be held from 6 until 7 p.m., with dinner and presentations following. Tickets may be purchased for $50 each by calling Rande Chapman at the OHS Alumni office, 937-298-8711.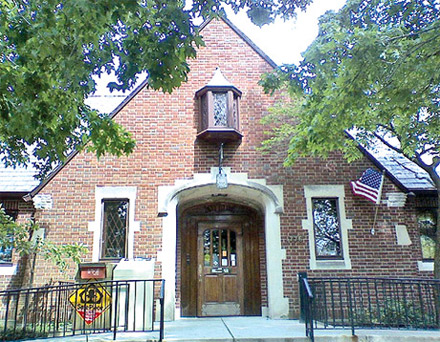 Wright Memorial Public Library received national recognition as one of "America's Star Libraries" in a recent article in Library Journal. Researchers Ray Lyons and Keith Curry Lance created the Index of Public Library Service, a rating system for public libraries based on their circulation, number of visitors, program attendance, and Internet usage.
It was published in the Feb. 15, 2009 issue of Library Journal, a national professional publication. Statistics from 7,006 public libraries were analyzed and the top 256 received star ratings, grouped by operating budget categories. Wright Library received three stars in the $1,000,000 to $4,999,999 range. (The library's 2009 operating budget is $1,792,228.)
Researchers Lyons and Lance said that some of the factors influencing the ratings are location, demographics, organization, funding, leadership and management. They explained that, "A library that excels on the Index is very likely to be headed in the direction of high service quality and excellence."
It was possible for a library to earn as many as five stars in the rating system. Wright Library's director Ann Snively commented, "How we use the information is more important than receiving the rating. Now we can compare our library with those that earned four or five stars and look for ways to serve our patrons even better."
To read the full article, visit Library Journal's Web site at www.libraryjournal.com, or come to Wright Library and ask to see a copy.
Pointe Oakwood home models displayed to council

By Lance Winkler

The Oakwood City council met on Monday, April 6, with all members counted as present. The new housing development Pointe Oakwood at Sugar Camp unveiled the first of two home models that will be built at the site and offered to prospective buyers.

Some questions were raised concerning the foundry sand still in place, but Herald Williams of Versant, the developer of the subdivision, assured the council that there will be a 10 foot cap over the top of the sand plus a layer of topsoil, which he believed should quell any concerns.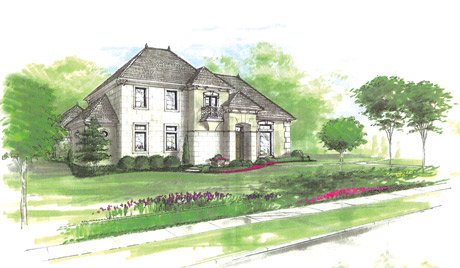 Single family home
The first model described and shown in the above illustration is a 2200 sq. ft. single family, "empty nester" two story. The architecture was presented as having French architectural influences with the construction materials used being described as first rate.

The clay roof tiles will be made by Ludovici, the exterior will be smooth stucco with Portuguese limestone being used for the window and exterior trim. Andersen windows, aluminum gutters made to look like aged copper will be another feature. Some homes will have basements but most planned units will not.

According to Williams, there will be a variety of architectural styles available including a 40-lot area set aside for home owners to hire an architect and build their own custom homes. Base price for the single family home is $469,000.

The patio homes, or villas are two-unit dwellings with on wall in common with each other. They will run about $375,000 and measure about 1800 square feet of living space. They will combine a single-story ranch with a two-story villa. Another variation described is to combine two single-story ranches or 2 two-story villas into a single unit.
"We're planning to start construction of the single families within 30 days if the city (Kettering) doesn't give us any problems," said Allan Rinzler of Oakwood Investments, LLP. "We should be able to get plan approval in a fairly quick manner."
The developers plan to start construction in early May with the first model completed by mid-August to coincide with one of the first completed streets.

Oakwood Safety Director Alexander Bebris gave a staff report citing the new Dispatch system upgrade as being in the integrated testing phase and with all the software installed into the new one terabyte (1000 gigabytes) capacity computer server. The next step is to incorporate the two desk stations that both have dual-screen data displays. All components will undergo testing as a single unit within the next few weeks and should be fully operational by the end of the month.

Chief Bebris also announced that the Greater Dayton Area Hospital Association has given the EMT squad a tech upgrade by installing wireless transmitters in the LifePak12 EMT kits that directly connect with Miami Valley Hospital for medical information purposes.

Chief Bebris also praised his crew and announced that for the first time in history at Oakwood, the squad passed 100 percent of their standing orders training tests on the first try.

City Manager Norbert Klopsch gave his report, announcing that the city received $184,000 in federal stimulus money this week and will be using it to comply with American Disabilities Act rules with regard to public access standards.

Finally, a member of the U.S. Census Bureau came by to announce that about 20 people will be in the area canvassing in preparation for the 2010 U.S. Census.

Coming April 14
FOR PETS SAKES
A special section celebrating those chummy, loveable
additions to our lives.
Including…
A full-color photo gallery highlighting the pets of Oakwood Register readers – cats, dogs, turtles, rabbits, fish, or…..!!
Only $15 per photo
A portion of each entry fee will be donated
to the Humane Society, SISCA and Robyn's Nest Rescue
Email (preferred) photo and information to:
Pets@OakwoodRegister.com



Payment can be made by phone with a Visa or MasterCard at 294-2662,
or you can mail or bring a check to the Register office.
Snail Mail photo, info & check to:
Oakwood Register – Pets
P.O. Box 572
Dayton, OH 45409
Hand-deliver photo, info & check to:
Oakwood Register
435 Patterson Rd.
Corner of Patterson and Kling