Virginia Toulmin gifts $20-million
to Dayton Foundation fund

Largest single gift in foundation's history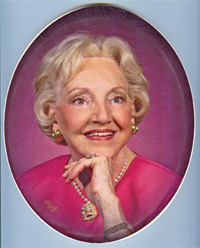 The Dayton Foundation announced today that longtime donor Virginia Bernthal Toulmin has made plans for what is projected to be more than a $20 million legacy gift to the Harry A. Toulmin, Jr., and Virginia B. Toulmin Fund of The Dayton Foundation. This will be the largest single gift in the Foundation's 88-year history and is expected to be among the largest gifts made in recent decades to a charitable organization in the Greater Dayton Region.
"The Dayton Foundation is honored to be entrusted with this incredibly generous gift. A true philanthropist in every respect, Virginia Toulmin selflessly shares her many gifts with those in need," said Michael M. Parks, president of The Dayton Foundation. "This gift, which ultimately will carry no restrictions on The Dayton Foundation for how it can best be used to benefit Greater Dayton, will have a tremendous impact on our region over time. Since Mrs. Toulmin's gift later will fund a permanent endowment, the Toulmins' legacy will work to improve the quality of life for people throughout our community in perpetuity.

"We couldn't be more grateful for this gift and for Mrs. Toulmin allowing us to announce this now in the hope that it will inspire others to give to help their community," Parks continued. "For such a modest individual, this was not easy for her to permit us to be so public with her gift. She truly is a special person who wants the best for the Dayton region."
Now a resident of Florida, Virginia Toulmin called Oakwood home for more than 41 years. As a former nurse and businesswoman and the widow of international patent attorney Harry Aubrey Toulmin, Jr., and daughter-in-law to Harry A. Toulmin, Sr., the famed attorney who secured and defended the Wright Brothers' patent for their flying machine, she established her Dayton Foundation fund to help others, leaving her gift to benefit her longtime home, while also honoring her husband and his family history.
Said Virginia Toulmin, "Harry and I had a very happy life together in Dayton. He grew up in the region and made a very successful living here. We owe Dayton something in return. I think the world of The Dayton Foundation, and I know that they will use these dollars wisely. I'm so glad to be doing this for the community that was so good to Harry and me."
"Unrestricted gifts like Mrs. Toulmin's are vital to the future of our community," Parks said. "Mrs. Toulmin has demonstrated real leadership in the understanding of and advocacy for unrestricted giving through the strength of her gift and her foresight and commitment to this type of giving. Her gift will provide us with the ability to help support efforts of local organizations that address a variety of ongoing needs. In addition, they will enable the Foundation to support opportunities available to our community and to tackle broad community issues confronting our region through the Foundation's leadership initiatives. Clearly Mrs. Toulmin's gift ultimately will touch countless lives for generations to come."
Said Mrs. Toulmin, "Giving unrestricted funds is a wonderful idea that everyone should consider. Harry always said that one shouldn't try to dictate from the grave. If an organization's management is good and strong, give them an unrestricted gift. They can decide how best to use it long after you have passed away."
A committed volunteer as well as a generous patron, Mrs. Toulmin has a philosophy of giving that goes beyond the importance of giving back through monetary gifts. When talking about helping people less fortunate than oneself, she was quoted as saying, "Even if you can't afford to give money, you can give love."
Since 1921 The Dayton Foundation has been helping people help others in the Dayton community and beyond. The Dayton Foundation helps donors find the best and most tax-wise ways to achieve their charitable objectives, invests and manages donors' charitable funds, and provides grants and leadership to grow philanthropy and help meet present and future community needs. More information about The Dayton Foundation and its services is available at www.daytonfoundation.org
---
Zoning change on Routsong property
passes council 4-0

By Lance Winkler

The Oakwood City Council met on Monday, March 2, 2009 with all members counted as present. Also attending was a large contingent of concerned citizens with regard to the second reading of the zoning ordinances converting lots 149, 150 and 153, located at the corner of Irving Avenue and Brown Street from R-5 residential to NBD business district. Property owner Thomas Routsong had submitted a proposal to the city to raze the existing building that served as the former Oakwood chapel of Routsong Funeral home and build an office/retail unit in its place. A number of neighbors were present to express opposition to the measure.
Mayor Judy Cook invited the neighbors up to the podium to speak and ten citizens took her up on the offer. One resident voiced her opposition but seemed resigned to the outcome which she perceived as favoring the zoning change.
"The decision made tonight is irreversible, and it will change the neighborhood," she said. Another believed that residential zoning should be maintained and pointed out that the R-5 designation was taking into account that the property served as a funeral home. Another resident expressed the notion that funeral home hours are different and any other use will be a deviation from the norm that residents nearby had come to expect.
Mayor Judy Cook gave the opinion that a denial of the rezoning ordinance "would be punitive" and believed it would be open to legal challenge, which would be "very expensive" to Oakwood taxpayers. Mayor Cook concluded her opinion by expressing support for the zoning change.
Councilmember Steve Byington remarked that he had put forward an "active effort" in
gathering all the facts he could in making a decision and expressed chagrin that some citizens had accused him of coming to foregone conclusions regarding the zoning changes.
Councilmember Bill Duncan said he went back to 1975 when a zoning change was made on the property from R-4 to R-5 and remarked that "the isues in 1975 are the same as today."
The measure was put to a vote and passed 4-0 with councilmember Stanley Castleman recusing himself.
The next formal meeting of the city council is scheduled for April 6, 2009.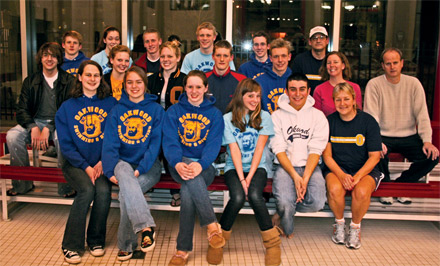 The Oakwood High School Swim Team concluded their season in a big way this past weekend at the State Championship meet held in Canton, Ohio. The Jacks relay team of senior Brent Turner, juniors Daniel Schmitz and David Ireland, and sophomore Andy Lamb finished in 7th place in the State in the 400 Free Relay setting a new school record with a time of 3:17:65. They finished in 12th place in the 200 Medley Relay in a school record time of 1:43:50. Daniel Schmitz swam an incredible 200 freestyle to take 5th in the State with a time of 1:43:58. Daniel also finished in 9th place in the 500 Freestyle with a school record time of 4:39:01. David Ireland broke his own school record in the 100 butterfly, swimming to an 11th place finish with a time of 52:31. On the first day of prelims, Andy Lamb swan to a 19th place finish in the 500 Freestyle (4:54:77). The Oakwood Men finished as the 10th place team in the State of Ohio for Division II.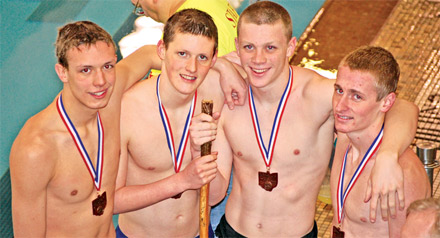 Pictured, left to right, is the OHS men's relay team David Ireland, Daniel Schmitz, Brent Turner, and Andy Lamb. These four boys comprise the first relay team to swim at the State Championship meet and they finished seventh place overall.
The Jills relay team of senior Haley Pohlman, and juniors Natasha Wahl, Sarah Wilhoit, and Ellen Viereckl swam in the 200 Medley Relay to a new school record with a time of 1:59:17! Haley Pohlman swam in the 100 Breast in prelims to a 20th place finish (1:11:05). Natasha Wahl swam to a 19th place finish in prelims in the 50 Free in a time of 25:27. The Oakwood Jills finished in 51st place in the State of Ohio for Division II.
These very successful swimmers are coached by first year head coach, Jennifer "Madame" Jervis and assistants Steve Wilhoit and Carrie Higgins.
Congratulations to the swimmers and coaches on the most successful season in Oakwood High School history!