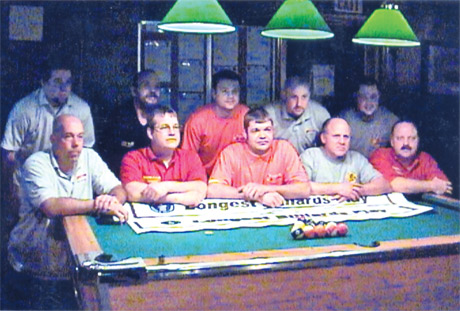 Pictured, left to right: Bill Erby and son, Josh; Neil Faulkner and partner Scott Himes, Aaron Spaulding and partner Jack Matthews, Randy Potter and son Josh Potter, Kevin Burns and partner Andy Burris.
Oakwood resident Bill Erby and a handful of his buddies are going to try for a world record at his business, Malarkey's Pub at 5928 Airway Rd. in Riverside.
The Guinness Book of World Records has given permission to attempt to break the longest billiard play record starting on Feb. 26 at 6 a.m. and going three days non-stop until Feb. 28.
Among the rules: Each player needs to be checked every four hours by a registered nurse; All five pool tables must be videotaped at all times; a log book must be kept with two witnesses on hand at all times.
---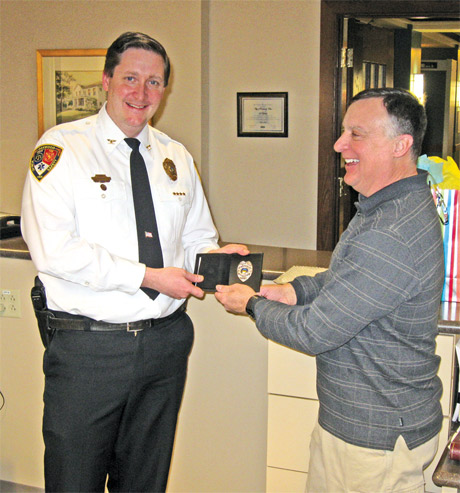 Officer John Schramm accepts retirement badge from Chief Alex Bebris.
Long-time Oakwood Public Safety Officer John Schramm was honored on Wednesday, Feb. 18, 2009, with a retirement luncheon held at the Oakwood Administrative Offices. John began his career with the Oakwood Public Safety Department on Nov. 17, 1980, and officially retired on Dec. 31, 2008.
Approximately sixty current and past city and Public Safety Department employees, along with John's wife, Christine, were on hand to honor and congratulate John on his 28 years of service to the Oakwood community. City Manager Norbert Klopsch and Director of Public Safety Alex Bebris spoke about John's service and presented him with a plaque and his retirement badge. Oakwood City Schools also presented John with a clock to recognize his numerous years of service to the schools where he served as School Resource Officer and taught the D.A.R.E. program. John received several other gifts and a large retirement card signed by his co-workers.
John's background included being a veteran of the U.S. Army. He was an avid gymnast and gymnastics coach for many years. He is an active bicycling enthusiast and was instrumental in founding the Public Safety Department's bike patrol program and maintaining the bike patrol equipment for the department. As a Public Safety Officer, John was a certified police officer, evidence technician, firefighter, fire inspector and EMT.
John served for many years as the School Resource Officer, working closely with the Oakwood City Schools, students, teachers and parents. John was the city's first D.A.R.E. Officer and taught the Drug Abuse Resistance Education program to numerous Oakwood students during his career. John cared very much for the Oakwood community and truly enjoyed his work with the schools and D.A.R.E. where he made a positive difference in the lives of numerous students over the years. John served as both an instructor and role model while teaching and educating young students about the dangers of alcohol and drugs and taught them the importance of making positive choices in their lives.
John plans to spend his retirement with his wife and family working on his home and enjoying his many hobbies which include woodworking, photography and cycling.
Both Oakwood High School's men's and women's swimming and diving teams put on impressive displays at the Southwest Ohio Division II Sectional Champion-ships. The men's team finished in 2nd place at the Centerville Sectional and the women's team finished 4th at the Trotwood Sectional.
Men's sectional individual champions included David Ireland in the 100 yard Breaststroke and 100 Butterfly and Daniel Schmitz in the 200 Freestyle and 500 Freestyle. Ireland and Schmitz also combined with Andy Lamb and Brent Turner to win the 200 Medley Relay and 400 Freestyle Relay. Their victories automatically qualified them for the SW Ohio District Championships at Miami University.
Also qualifying for Districts were Brent Turner (50 and 100 Freestyle), Andy Lamb (200 and 500 Freestyle), Sean Mooney (500 Freestyle and 100 Backstroke), and the 200 Freestyle Relay team of AJ Montesano, Jack Chambers, Buck Powell, and Jacob Langhorne. Langhorne and Powell are also alternates in the 100 Breaststroke and 100 Butterfly, respectively.
Also swimming at Sectionals for Oakwood, but not qualifying for Districts, were Matt Harlan, Michael Chapman, Jeff Key, and Chris Sneeder. Adam Smith, Marcus Viereckl, and Perry Fulford were also on the Sectional team but were unable to swim.
While the women's team had no individual champions, they did place a number of swimmers in the top twenty-four who qualified for Districts. These qualifiers are Natasha Wahl (50 Freestyle and 100 Butterfly), Ellen Viereckl (100 Freestyle), Sarah Wilhoit (200 and 500 Freestyle), Haley Pohlman (100 Breaststroke and 200 IM), Maddie Hochwalt (100 Breaststroke and 200 IM), Caroline Turner (100 Breaststroke), the 200 Freestyle Relay team (Hochwalt, Emily Kugel, Anna Johnsen, and Sarah Loftquist), the 200 Medley Relay team (Wilhoit, Pohlman, Wahl, and Viereckl) and the 400 Freestyle Relay team (Wahl, Pohlman, Hochwalt, and Viereckl).
Also swimming at Sectionals but not qualifying for Districts were Elizabeth Connelly, Anne Connelly, Elizabeth Johnsen, Amy Beck, Alexandra Harmony, Emily Edwards, Sara Denka, Erin Johnson, and Katie Woodie.
For the Oakwood diving team, only Michael Walker participated due to winter break vacations. Michael finished 16th.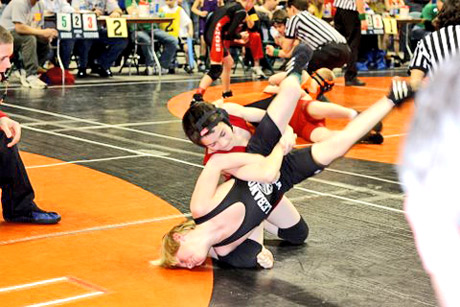 Jacob Kordik spent Sunday evening going head-to-head with some of the area's best wrestlers. The Miami Valley Kids Wrestling Association Championships, held at E.J. Nutter Center, were represented by all the area teams.
Jacob represented the Patriot Youth Wrestling Club (Carroll High School) by dominating the 65 lb, 10 year old category with three strong wins.
Jacob's win-loss record for the season was 24-1. Jacob's proud father, Mike Kordik, was the assistant coach. Way to go, Jacob!