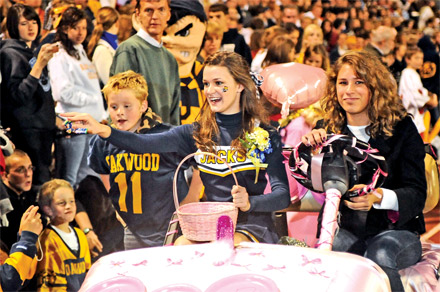 Photo by Leon Chuck, www.pressboxphotos.com
Homecoming Friday night, Mack Hummon Stadium was packed where the Oakwood Jacks soundly defeated the Waynesville Spartans 34-8. The Jacks offense, defense, and special teams dominated the Spartans. Before the game started, two Oakwood students presented to the Oakwood Education Board an Excellent with Distinction Banner, recognizing nine years of excellence from the Ohio Board of Education. OHS Alumni totally enjoyed the festival evening. At half time, the Homecoming Queen was announced as Nora Murphy (Pictured at center being driven by Emily Reed).. After the end of the game, the OHS Marching Band played at midfield with participating Alumni band members.
On Thursday, Oct. 2, at approximately 2:15 p.m. the Oakwood Police Department responded to a call at 336 E. Thruston Blvd. on the report of an aggravated burglary. There was about a seven-minute time delay in OPD receiving the call and dispatching crews. The male resident who was working on the lawn observed two black males leaving his residence. The resident assumed the individuals had been speaking to his wife and possibly selling magazines. The complainant spoke to the subjects as they left. The complainant then went inside and found his wife crying in the bedroom and who said she had been robbed by the subjects, who displayed a handgun, placed it to the female victim's head and demanded cash and jewelry. The complainant went to look for the subjects but they had fled the area.
The suspects are described as two black males 15 to 21 years old, six feet tall, athletic build's, medium complexions, no facial hair, close cropped hair, earrings, both wearing long blue jean pants. One suspect had on a white polo shirt and the other had on a blue polo shirt possibly with red UD letters on it. The male in the white shirt displayed an unknown type handgun while demanding her cash and jewelry.
The only vehicle description is possibly silver mid-sized pickup truck that was seen parked and then leaving the area occupied by two black males who were seen jogging towards the vehicle. The vehicle left westbound on E. Thruston Boulevard. Anyone having information regarding this crime is asked to contact Detective Alan Hill of the Oakwood Public Safety Department at (937) 298-2122.
The Oakwood Public Safety Department would like to remind residents to promptly report any suspicious activity or persons by calling 911. Please keep your doors locked and make sure you know who is at your door before you
open it.
By Dolores Wagner

Wright State University will gain a new multi-million dollar athletic facility, made possible by a lead gift of one million dollars from Allan Rinzler, one of the partners in the Oakwood Investment Group, and his wife, Brenda Rinzler. The gift was acknowledged, and the Rinzlers honored at a Heritage Society dinner Saturday night at the McLin Gym in the Nutter Center.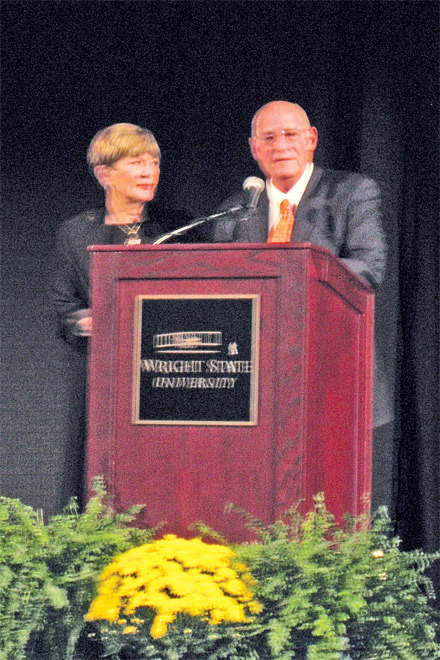 Brenda and Allan Rinzler accept honors at podium.
The new facility, to be named the Rinzler Field House, will be constructed in Raider Village near the Nutter Center, where many of Wright State University's athletic facilities are located. The project advances the long-term master plan to create more facilities for use by intercollegiate and intramural sports and by the regular student body, according to Rinzler. Plans also call for a new natatorium.
Final details of the building have not been set; however, it will contain 80,000 sq. ft. and feature sides that can be raised during good weather in spring and early fall. Uniquely shaped similar to a Quonset hut, it will be fully heated and air conditioned, and will provide showers, locker rooms and other field house accoutrements. Plans are for completion in approximately three years at a total cost of three to four million dollars.
Rinzler has always had an interest in education. He served on the WSU Board of Trustees - one term as board chair - from 1985 to 1994 under President Paige Mulhollan."
I primarily served on the real estate and audit and finance committees. But my interest was always student oriented, and my desire has been to provide a sports facility for regular students who are not in team athletics," Rinzler said.