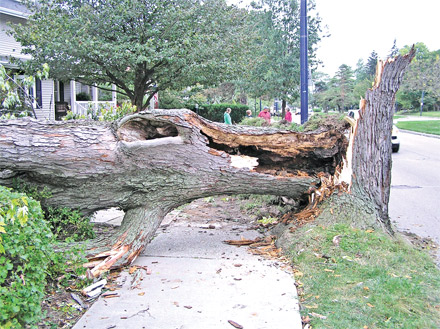 Photo by Lance Winkler
A microcosm of all the downed and fallen trees found all across Oakwood and the greater Miami Valley after the storm, a stately old oak that lined Far Hills Avenue for over 100 years is among hundreds in the area that was felled by the storm.
---
By Vicki Auditore and Dolores Wagner

It all began Sunday afternoon, when warm temperatures and gusty, circling winds combined to create one of the largest natural disasters this area of the state has ever seen.
"Even though it was a little windy, we were planning a trip to Carillon Park Sunday afternoon to see the antique cars. As we backed out of the driveway, however, a tree fell right across Hathaway Road – narrowly missing my car," said Oakwood resident Carol Kidwell. Within the next 30 minutes, four more large trees split and fell on power lines, and two trees were completely uprooted – just in the few blocks near her residence. The power went out during this time and remained out until 2 p.m. Tuesday.
"My gosh! That had to be tornado-level winds to cause all this damage," said resident Jim DeBrosse who was out surveying his neighborhood. According to some official reports, wind gusts were estimated as reaching over 80 miles an hour in some parts of the region.
Oakwood residents are still picking up the debris from what is said was the remnants of Hurricane Ike. As of the writing of this story on Tuesday afternoon many residents are still without power.
How is the city handling debris that has resulted from Ike's wrath? Amazingly well, that's how. "Regular trash pickup is on sched ule" said City Manager Norbert Klopsch. "We had regular trash pick-up yesterday. We were especially concerned about the foods that may have had to be thrown out because of the electricity outages."
As for how to ready the storm debris for pickup, "Continue doing what you're doing," he said. " Pile it up on the curb, not in the street, but in the grass. We are systematically going about collecting it."
Most of what the city is doing now is cutting down limbs hanging from trees that are threatening to fall. "We have surveyed the whole city and have made a list of all of them," Klopsch said. He is asking residents to call the city to report large limbs that the city might not have recorded or seen. A list of dangling or downed wires has also been recorded, but again, if you see one you might think has not been recorded, report the location to the city, remembering that citizens are urgently warned to stay away from them.
Citizens are asked to be patient. The city and DP&L are working around the clock to restore electricity. At the worst 80 percent of Oakwood was without power, and not without a few problems - blown transformers caused by re-energizing the lines and a few burning wires on the ground which are now safely secured.
Klopsch commended the efforts of all Oakwood citizens. "They were doing exactly what needed to be done, helping one another, doing what was necessary. Such citizen involvement was visible all over the place – people helping people." And in all the havoc of the storm, Klopsch pointed out that not one single storm-related injury has been reported.
Makes living in Oakwood even more special…and we're sure there are lots of feel-good "Ike" stories out there.
Dayton Power and Light (DPL) is making every effort to get everyone back on line as soon as possible. Spokesperson Mary Beth Weaver indicated that extra manpower has been brought in today. "We've brought in crews from out of state, so we have all of our resources as well as assistance from other districts," she said. Also, crews that were sent to Texas will be returning tonight (Tuesday) and tomorrow (today).
As for the extent of the damage, Weaver stated that originally DP&L had 200,000 customers out; 25,000 homes were back overnight. "But we're still looking at 180,000 throughout our service area which extends to 24 counties," she said. "And there are outages in every county we serve." Montgomery County, alone, has 95,000 people out of electricity.
Not only wires, but poles that were snapped in half under the surge of hurricane-strength winds are having to be replaced… "It's the worst damage they've seen in 30 years, some DP&L people stay," said Weaver. "We have not just branches, but whole trees." Winds of over 75 miles per hour were reported in Mason and Lebanon.
Many trees are still down across lines – and until a tree crew can come in and remove them – power cannot be restored to that area. DP&L continues to strongly caution anyone with trees on power lines NOT to try to remove them. If anything happens on the pole, if anyone sees anything strange happening with poles and/or wires…stay clear. Assume all downed wires are live!
In addition – as power is restored to sections of the community, any wires still down could become live – carrying up to 7,200 volts of electricity. This, even though you may still not have electricity in your residence.
Oakwood's Chief of Police Alex Bebris is very thankful and proud of the way the citizens of Oakwood have responded to the disaster. "It could have been a lot worse," he remarked, noting that no injuries have been reported as a result of the storm. "We have had a few minor fires from electric wires on trees, but there has been no specific increase in incidence of police reports."
"We have also had a few minor accidents due to drivers not stopping at intersections without power." As of Tuesday afternoon, there are four intersections in Oakwood still without traffic signals: Park Road and Far Hills Avenue (near Sunrise Assisted Living); East Drive and Far Hills (near CVS Pharmacy); and the two Smith school intersections at Shafor Boulevard at Telford and Aberdeen Avenues. Bebris reminds citizens of the law in Ohio that when signals are out all drivers are to treat the intersection as a four-way stop.
Bebris commended the citizens of Oakwood for pitching in and helping to clear the debris throughout the city so quickly. He also cited the entire City of Oakwood staff, Public Works Department and Public Safety Department for the monumental effort put forth during the crisis.