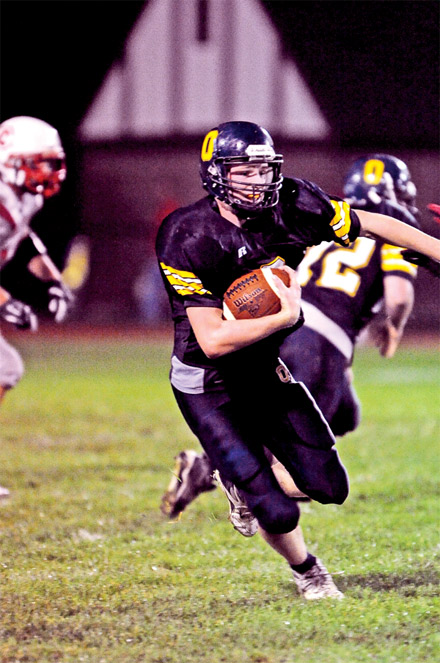 Photo by Leon Chuck, www.PressboxPhoto.com
Scott Phillips finds open field running after catching a pass for a huge gain in the fourth quarter. The Lumberjacks soundly defeated Carlisle 34-0.
---
By Dawn Beigel

"Phantom revenue" will again be a factor in the amount of state funding Oakwood Schools receives for 2009.
The term refers to additional money that is not seen, or a funding amount that a district could be receiving but does not according to the state formula. "We really don't get anymore money for taxes," said Treasurer Kevin Philo who highlighted the topic at last night's board of education meeting.
The formula for determining state funding for the fiscal year is as follows:
The number of students in the district multiplied by the dollar amount to educate each of them yields the total cost to educate. That total cost is then subtracted by the district valuation (times the levy millage).
While the state has raised the dollar per pupil amount it gives by three percent, it is an unrealistic figure for Oakwood Schools. "It really equates to less than one percent for us," said Philo, noting that the district spends just under $10,000 for each of its students.
The end result in the formula is the district receives less state funding than the previous fiscal year, even though it was projected to receive more.
In other reports at the meeting, Superintendent Dr. Mary Jo Scalzo shared the district's enrollment figures for this school year. The number is up slightly (16 students) at 2,182. The number breaks down to 672 students at the high school, 347 at the junior high and 1,163 at the elementary schools. She said the district total is in line with what was projected.
Dr. Scalzo also reported that the district again received a ranking of "Excellent" on its annual report card, that being for last school year. She said the ranking name has altered to "Excellent with Distinction."
In public commendations, the board recognized the following:
• Sophomore Alexandra Morris for being named a Joyce Ivy Foundation Summer Scholar for 2008. She attended John Hopkins University on a full scholarship for a two-week program on preventative medicine.

• High school students who participated in the Spring 2008 National
Financial Literacy Challenge sponsored by the U.S. Dept. of Treasury. Scoring in the top 25th percentile were Brooke Achtermann, Molly Breidenbach, Marissa D'Agostino, Kailey Ketterer, Thomas Neff, Justin Reeder, Daniel Willis, and '08 graduates Paige Charbat, Kelsey Haviland, Max Livada, Aomi O'Brien and Meryl Spurlin.

• The high school and junior high school staff for raising $1,702 during their year-long service project to benefit Daybreak.
Among legislation, the board approved the following:

• The spending plan for FY 2009 and the initial permanent appropriations for FY 2009, effective this Oct. 1.

• The five-year forecast for submittal to the State Department of Education.

• Donations of $50 to the John Martin Fund from Joanne D. Brinker; $1,000 to the Academic Decathlon Program from the Leonard Foundation; $25 to the district for staff recognition from Oakwood Florist; $50 for the district for staff recognition from Liberty Bank; $700 to the high school/junior high tech team from George Vlahos;
and a cello to the high school from Gary Gaffield.

• The resignation of elementary school student council advisor Alice Alter, effective immediately.

• Employment contract amendments for Kevin Philo, Dr. Mary Jo Scalzo, Kathleen Bartalo, Joseph Boyle, Daniel Weckstein and Mark Hughes, all effective last
Aug. 1.

• New contracts for Kim Kappler, curriculum director, and Nance Bradds, Smith Elementary principal, both effective last Aug. 1.

• Resolutions for the 2008 OSBA Media Honor Roll.

• Adopting a school policy (#5771.01) on the use of breath test instruments for students.

*Permitting high school students to compete in various scheduled events. These include Oct. 12, JV field hockey tournament (team will participate in the third day of the tournament only if they play in the finals); Dec. 7, Boys Basketball Tip Off Classic at Fairmont High School; Jan. 18, Southwest Ohio Swim Meet.
Oakwood Board of Education will hold its next regular meeting Oct. 13, 7:30 p.m. at the central office.
---
Montgomery County Auditor Karl Keith announced that new tentative property values resulting from this year's countywide reappraisal are in the mail. Notices of the new values set by the county will be staggered so that they will appear in local mailboxes over the next two weeks.
According to Keith, these notices begin the phase of the reappraisal process that gives property owners an opportunity to have input before values are finalized. Property owners who disagree with the new value of their property may schedule an informal review with one of the county's appraisers.
Informal reviews will be held at 17 different locations throughout Montgomery County over the next five weeks. Local sites and dates for Oakwood property owners include the Oakwood Administration Building, 30 Park Ave. (Sept. 25-26); Christ Church UMC, 3440 Shroyer Rd. (Sept. 22-24); and the Kettering Recreation Complex, 2900 Glengarry Dr. (Sept. 23, 24 & 26). To schedule an informal review, property owners may call 937-278-3800 after they receive their notices.
Additional information on this year's reappraisal is available on the Auditor's website at www.mcrealestate.org.
---
As part of our Centennial Celebration, we will be adding an additional section to our "Talk of the Town" Cookbook. Do you have a family recipe that's been passed down for years and years? Is there a dish that has been a tradition for generations or one that your family makes for special occasions? Then share it with us and the rest of the community by being part of the Centennial Addition. The addition will fit in the back of the current Talk of the Town cookbook and can be purchased for a nominal fee.
If you have a recipe (or two!) that you would like to share, please send it along with a brief description of the age of or family tradition held with each recipe. Entries can be emailed to occ@oakwood.oh.us or mailed to:
Oakwood Community Center,105 Patterson Road, Dayton, OH 45419. Or...if you don't want to type it out, bring your recipe here and we'll make a copy for you!
Be a part of history!!! We have extended the deadline to Sept. 14. Help us make this project a success.
---
On Monday, Sept. 15 and Wednesday, Sept. 17 from 6 to 7:30 p.m., the PTO will host a picnic dinner before parents begin following their student's school schedule at the junior and senior high open houses.
The dinner consists of a Pine Club burger, chips and a beverage. Tables will be set up at the Junior High entrance on Schantz Avenue. The cost is $6.
"We thought giving parents and teachers the opportunity to socialize before parents visit the classrooms would be fun, " explained PTO President Sara Feldmiller. Parents can send in their dinner orders along with their PTO membership form or pay at the door.
The city of Oakwood will conduct a community meeting at 7 p.m. on Thursday, Sept. 18 to discuss public athletic and recreation space. City officials will make a presentation describing the city's current public properties and facilities.
Thereafter, city officials will ask for public comments regarding the facilities and will solicit thoughts and ideas on possible future facility improvements. The meeting will take place in the council chambers at the city building, 30 Park Avenue. All citizens are welcome and encouraged to attend.
Norbert S. Klopsch
City Manager
August 29, 2008
Your guide to upcoming
art and cultural events!
Contact The Oakwood Register for more information!

435 Patterson Rd.
Dayton, OH 45419