1st Annual OHS Athletic Hall of Fame Banquet a success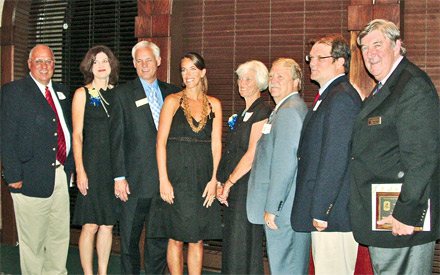 The First Annual Oakwood Athletic Hall of Fame Banquet was held, Aug. 21 at the Dayton Country Club. Family, friends, former coaches, fellow athletes and well-wishers attended the program which recognized and honored ten singular athletes and coaches this first year from Oakwood's hallowed halls. They are: Dr. Roger Beardmore, Class of 1969; Kate Burton, Class of 1981; Edward Cook. Coach; Bess Hayner, Coach, Dan Howell, Class of 1973, J. Mack Hummon, Coach; Barry MacKay, Class of 1953; Joe (Buzz) Pierce, Class of 1964; John Sauer, Class of 1943,and Marisa Tuzzi Maher, Class of 1995. Pictured above are the honorees and attendees who accepted the award on behalf of some of the honorees.

---
By Norbert Klopsch
Oakwood City Manager

It has been many decades since the city of Oakwood has seen a new land development of the size underway at Sugar Camp. Aside from this property, our city is essentially fully developed. The statement "fully developed" simply means that the land within our city is developed for its intended use – the "intended use" being stipulated and defined by our city comprehensive plan and our zoning and subdivision codes. It does not mean that every piece of property is used for housing or businesses. In fact, if you look around our city, you will find many areas retained as natural green space.
Last Saturday the city conducted a dedication ceremony for "The Rotary Bridge". This bridge is a gift from the Oakwood Rotary Club and connects the Houk Stream natural area to the new public natural area created when the city purchased the adjacent 3.1-acre lot. The resulting larger green space will stand forever as a preserve for the enjoyment of future generations. The pedestrian bridge is valued at $40,000, a significant gift to the citizens of Oakwood.
The Sugar Camp development, as most people call it, consists of three distinct components. They are the Sugar Camp Professional Office complex, the Beth Abraham Synagogue, and the residential housing area referred to as Pointe Oakwood.
Sugar Camp Professional Offices: The Sugar Camp Professional Offices are located in the large buildings that once served as the NCR Corporate Training Center. Reuse of the well built and well maintained buildings proved to be the best and most environmentally responsible approach to creating this office space. Exterior work on the site including removing a large parking lot, constructing two new parking lots, improvements to the new public roadway called Sugar Camp Circle, and major site landscaping is expected to be completed within the next month or so. There are already two tenants on-site; Dr. Thomas' Ophthalmology practice and the Wellness Connection. These two tenants are currently in temporary space until renovations to their permanent space are completed later this year. The developer is marketing the remaining available office space.
Beth Abraham: Work on the beautiful Beth Abraham Synagogue was completed this spring. The Synagogue was officially dedicated at a ceremony back in May.
Pointe Oakwood: The new residential neighborhood being constructed at Schantz and Far Hills is called Pointe Oakwood. This housing development includes condominiums, patio homes and towne homes with floor plans designed specifically for empty-nesters and retirees. Pointe Oakwood will offer a housing product not currently available in our city. The housing is being created to address citizen desires for homes that conveniently accommodate their leisure and travel lifestyles and will include a homeowner's association to address, among other things, maintenance of exterior areas. Oakwood has very few housing options of this type, far fewer than neighboring suburbs, yet many long-time residents (and some newer residents) are looking for it. They want to stay in Oakwood, but want available housing choices to match their needs.
Over the past few months, the developer has focused on the challenging site work required to prepare the land for the residential use. They also addressed the environmental issues that were well defined and understood long before the project began. Although the development required some changes to the landscape, many of the existing old-growth trees are being retained. These trees can be seen along the property frontage on W. Schantz Avenue and within the interior areas of the property along Far Hills. As the new neighborhood is constructed, hundreds of new trees will be planted and other major landscaping will be added. Of the total 36 acres at Sugar Camp, about 12 acres was already developed as part of the former NCR training facility. Even considering that existing use, trees and natural areas are being preserved on approximately 8 acres, about 22 percent of the land.
Over the next couple of months, the city of Oakwood will be completing major roadway improvements along Far Hills Avenue. The Far Hills project accomplishes four important objectives: 1) It improves roadway safety by adjusting the lane alignment of Far Hills Avenue and eliminating several unnecessary jogs in the curb line between Rubicon Road and Sawmill Road; 2) It improves pedestrian safety by increasing the distance between the sidewalk and roadway through addition of tree lawn green space in several areas along the east side of Far Hills Avenue; 3) It widens Far Hills to accommodate a center left turn lane between Schantz Avenue and Springhouse Road; and 4) It creates an intersection with a traffic signal at Springhouse Road that will serve as the community's roadway connection to the Old River sports fields and the new residential development. An access road from Far Hills to the Old River site was one of the requirements imposed by NCR when Oakwood purchased the 28 acre property in 2006.
Oakwood City Council meets for a formal public meeting once each month, typically on the first Monday. At these meetings city council and staff provide an update on the Sugar Camp and Pointe Oakwood projects. We will continue to provide public updates each month until the project is successfully completed. These meetings are open to the public, and public attendance is encouraged. The meetings are also broadcast live on cable channel 6 and are re-broadcast several times during the week or two after the meeting. You can find the broadcast times at: www.mvcc.net. You can also view previous council meetings on Oakwood's website at: www.mvcc.net/oakwood.
The Sugar Camp Professional Offices and Pointe Oakwood residential developments address important objectives detailed in our city Comprehensive Plan. They also are integral to Oakwood's Old River athletic and recreation fields in that the new public roadway to be constructed at Far Hills and Springhouse Road will serve as the primary entrance into that facility. If you have any questions about the projects or would like additional information, please call me at 298-0600. I welcome the opportunity to meet with you.