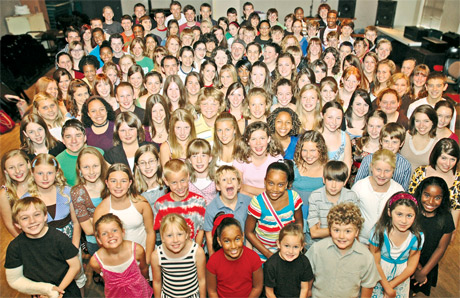 On Wednesday, Aug. 6 and Thursday, Aug. 7 at 8 p.m., the Gem City and the Emerald City combine forces for a perfect summer evening of music and dance! The Muse Machine in Concert: Wicked and the Songs of Oz brings together best-loved songs from the current Broadway smash Wicked, the MGM film The Wizard of Oz, the 70's re-imagining The Wiz and even the story's little-known, 1903 Broadway version!
The Muse Machine in Concert: Wicked and the Songs of Oz will be the 12th summer concert to be produced by The Muse Machine. Tickets range in price from $12 to $52 and are on sale exclusively through Ticket Center Stage, by phone at (937)228-3630, online at www.ticketcenterstage.com, or at the Ticket Center Stage box office in downtown Dayton in the Schuster Center.
---
By Abby Mansfield

When I was first told that our family would be moving to Oakwood, Ohio after nine years of living in Europe, I was a skeptic. I would sorely miss the European culture, people and food that I had come to love; I had no idea what life in the United States would be like; I didn't even know where Oakwood was! Even though I am an American citizen, my US geography is shaky at best, and for all I knew, we were moving to the middle of a cornfield. Thankfully, first impressions aren't always accurate, and my relocation to the country of my birth has been less painful than I thought.
The first thing that struck me as we rolled into Oakwood in our rental car was that everybody spoke English. This might seem unremarkable, but after nine years of struggling to achieve proficiency in a new language every time we moved, having neighbors whose language we spoke from the get-go was a novel experience. And not only could we could understand and converse with our neighbors, but they were all friendly and welcoming – many even brought baked goods! Throughout our three moves in Europe, we were never welcomed into a neighborhood with banana bread and muffins.
The area of Oakwood also exceeded my expectations, even though I miss the cobblestone streets and aged city centers of Belgium and Germany. The green lawns, abundant fireflies and occasional rabbit scampering through a yard appeal to my more provincial side, and Oakwood's main street is perfect for satisfying those Graeter's or Starbucks cravings. The library is also a great asset, and was especially helpful during our Internet-deprived first week. The only qualm I have is with Oakwood's centennial anniversary banners: what exactly does "100 Years of Excellence" mean, anyway?
However, my first experiences in Oakwood were not perfect. I cannot drive yet, as the driving age in Europe is eighteen, and have to rely on parents to get around – US public transport leaves a lot to be desired. Our family also ran into trouble when trying to convert my mother's Belgian driver's license into an Ohio one, as well as when setting up phone service. Don't even get me started on replacing all of our European electronics – we still don't have a TV, as my younger brother constantly reminds my parents.
But no matter – we have persevered, and although we may miss some things about Europe, I have faith that in time we will adapt to Oakwood as we have adapted in the past. All that is left for me to do is get ready for college and find summer employment, which brought me to the Register in the first place. So if anyone reading this would like to hire an articulate, personable and hard-working eighteen year-old for a full or part-time job, I'm always available. And she is at 294-1570.



The Oakwood Register
print version
is available
to subscribers anywhere
in the USA...
click above
for more
info!