By Lance Winkler

Last Sunday morning, fourteen Oakwood residents living in the northeast end of town woke to find their vehicles and private property vandalized by red and blue spray paint. City-owned property such as street and stop signs were vandalized as well. The damage occurred in a four-block area of the George Schantz Historic District around Ridgewood, Schenck, Glendora. Lookout and Springgrove avenues.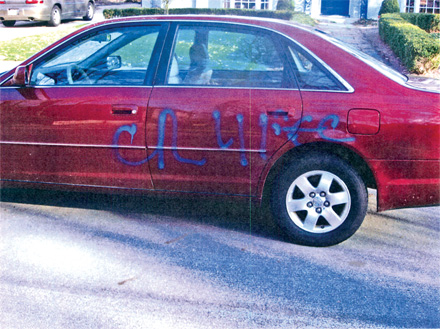 "All it takes is about half an hour's work to do about $10,000 dollars in damage," said Capt. Dave Lantz, public affairs officer with the Oakwood Safety Department. Officers canvassed the neighborhood and spoke with several dozen citizens checking for leads and evidence.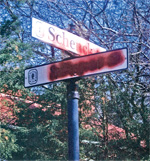 No relevant suspect information was found during the canvass, but many more vandalism incidents were discovered and reported to their owners, according to Officer Rob Wilson.
Wilson spent considerable time on his police bike looking for spray cans or other potential evidence that might have been left behind by suspects. Some of the graffiti spelled out the word "Crusher" and the initials "CCR."
Any person who has information related to the case is asked to contact the Oakwood Safety Department at 298-2122.
---
The Oakwood Schools Education Foundation is pleased to welcome new advisory council members, Molly Cobb, Todd Duwel, John Jervis, and Sandy Pierce. In addition, Sam Davis is the newly appointed liaison of the Oakwood Board of Education to the Foundation.
Molly Cobb is a 1978 OHS alumna and graduate of U.D. with a B.S. in Education. Molly and her husband, Steve, are Oakwood residents and the proud parents of three children. Molly has been very involved in the Dayton community with a number of organizations, including the Oakwood Athletic Booster Association. Molly currently volunteers for Hospice of Dayton and Smith Elementary School.
Oakwood graduate Todd Duwel (1990) graduated from Miami University and the University of Dayton School of Law. Todd practices employment and business law with his father and brother at David M. Duwel & Associates. Todd and his wife, Lisa, are Oakwood residents and have three little girls, the oldest of whom attends Kindergarten at the Lange School.
John Jervis was born and raised in Oakwood. He is a graduate of Oakwood High School class of 1982. John has a B.S. from the University of Cincinnati and has been with Merrill Lynch for 15 years. He is a board member for the Kettering College of Medical Arts and Camp Kern. John and his wife, Lori (OHS '83), are Oakwood residents and have three children in the Oakwood Schools.
Sandy Pierce is a Partner at Parker Carlson & Johnson, an investment management firm located in downtown Dayton. She is a graduate of Miami University and a CPA. Sandy is very involved in the community, having volunteered extensively for the United Way, Dayton Art Institute and her church. Sandy and her husband, George, are residents of Oakwood and have two sons, both of whom are Oakwood graduates.
Sam Davis began his term on the Oakwood City Schools Board of Education in January 2008. He is a 1979 graduate of OHS. Sam and his wife, Jill (OHS '82), are Oakwood residents and have three sons in the Oakwood Schools. Sam is employed by Spohn Associates, Inc.
These individuals join current Foundation Council members: Jill F. Davis, Harry Ebeling, Steve Hayes, Ellen Ireland (Chair), Dottie Savage-Kemp, Janine McQuillan, Jacqueline Miller, Linda Reed, Mary Jo Scalzo, and Toni Winger. We thank outgoing members: Bob Curry, Chris Wallace and Dave Feldmiller, as well as Board representative Elizabeth Reger.
The Oakwood Schools Education Foundation provides students with diverse and distinctive opportunities, which go above and beyond the reach of the district's normal operating budget. Pursuing its mission, "Enhancing Excellence through Philanthropy," the Foundation provides significant annual support for quality initiatives, including teacher and administrative grants, scholarships and special wish list items.
---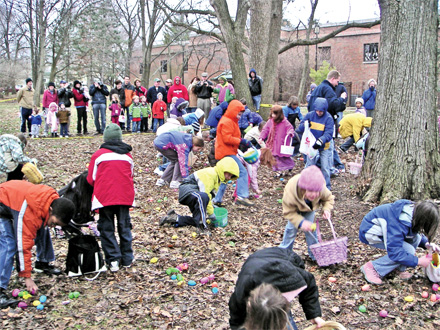 Oakwood families turned out on Saturday by the dozens to participate in the annual Oakwood FOP 107 Easter Egg Hunt held behind Wright Memorial Library. A great time was had by all.
---
The MOM's Group of Oakwood is celebrating its 15th anniversary in 2008, and a Spring Fling has been planned to mark the occasion. The event will be held on Saturday evening, April 19 at the Miami Valley Hunt and Polo Club from 7 to 11 p.m.
The evening will include cocktails (cash bar), music, food and friends. Admission is only $35 per person! Hors d'oeuvres will be provided by BellyFire Catering of Oakwood, with desserts provided by members of the MOM's Group of Oakwood. The signature sponsor for this event is Team Kooz with Remax Victory at the Greene.
Although the Spring Fling is a MOM's Group-sponsored event, it is open to the entire community. All are welcome! If you would like to attend, simply make a check payable to Mom's Group of Oakwood ($35 per person) and either drop it off or mail to Kelly Hick, 334 Wiltshire, Dayton, OH 45419. Deadline to RSVP is April 8.
For more information, please call Meredith Spitzmiller at 299-6525. You may also visit the MOM's Group website at www.momsofoakwood.org.
The MOM's Group of Oakwood is a non-profit group open to all mothers. Located in Oakwood, group activities include monthly meetings hosting pertinent speakers, a weekly themed playgroup, field trips, MOMs Night Out, a book club and even a brand new cooking club! Regular monthly meetings are generally held at 7 p.m. on the fourth Thursday of the month from September to May.