Nathan Detroit, played by Tyler Rife, looks askance at the present given him by longtime girlfriend Adelaide, played by Annabeth Kane in the Oakwood High School production of Guys and Dolls. The show is co-directed by Jeremy and Kate Storost with Ron Nelson as music director. The show is slated for three performances: Friday and Saturday, March 14 and 15 at 8 p.m. and Sunday, March 16 at 3 p.m. Tickets are available at the door or by calling 297-5325.
Saturday, March 15, 11 a.m.
on Schantz Avenue behind high school
The Oakwood Centennial Committee is inviting all Oakwood citizens to come together for a group photo shoot to be published in the upcoming Oakwood Centennial publication, From Acorn to Oak Tree: A Centennial Celebration. The photo shoot is scheduled for Saturday, March 15, at 11 a.m. on Schantz Avenue behind Oakwood High School.
The purpose of the photo shoot is to capture the true essence of Oakwood's greatest asset...all of us...the people who live here! We need the young, the old, and everyone in between.
Bring your family, bring your neighbors, bring your best friend and your sweetheart. Heck, bring your favorite pet! Invite your teachers, your barber, your mailman, and the kid that bags your groceries.
This is our chance to show the world what Oakwood is, a community of car ing neighbors who live, work and play together under, yes, a dome, of true friendship, civic pride and voluntary dedication and commitment.
This event is rain or shine. Shine, and we'll stand on Schantz Avenue. Rain, and we'll pile into the Pit. Help us all to remember what an amazing community Oakwood is and why it will continue to be for the next hundred years.
By Lance Winkler

Somethin's cookin' at "The Farm," John C. Gray's rural-palatial homestead at 1911 Ridgeway Rd. "Boiling down" is a more operative a term though. Property manager Leo Mayauskas has been busy over the past month, having started Jan. 28, putting 100 taps on 75 sugar maple trees. The effort has paid off as over 300 gallons of maple tree sap have been harvested by the steel bucketful from the dozens of maple trees on Gray's estate.
A fire pit has been dug and the brake drum of a 75-ton bar shear serves both as the holder and heat sink for a 3-stage, 230,000 btu burner that is being put through its paces in boiling down the sap that renders one of nature's sweetest concoctions – maple syrup. According to Mayauskas, it takes 40 gallons of sap to make one gallon of syrup. About six gallons of maple syrup will be the sum total output of this season's harvest.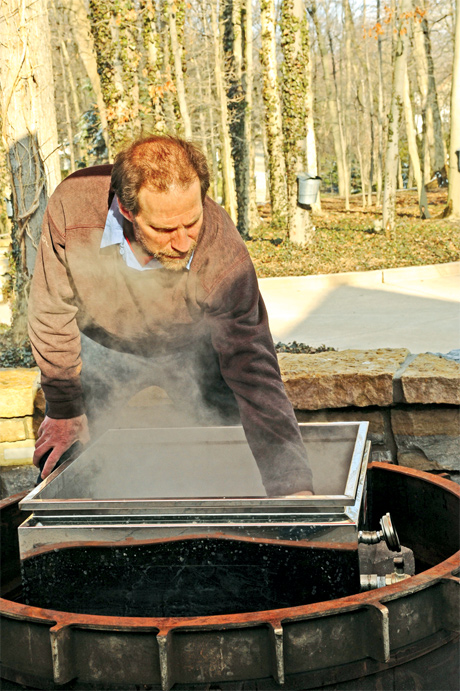 Property Manager Leo Mayauskas checks the hydrometer on the burner as the sugar maple sap is boiled down to make maple syrup.
Last year, Gray looked about his property, noticed the large number of sugar maples thriving there, and decided to try making maple syrup for the first time. He enlisted the abilities of Mayauskas for the undertaking. The first year's effort was considerably smaller – 24 taps, 15 gallons of sap and two gallons of maple syrup to show for it. They planned for bigger things this year.
This past month has been a propitious time for harvesting the sap, with weather conditions running between 20 degrees and 40 degrees, according to Mayauskas. A hydrometer floats in the boiling liquid and shows the correct density with a red line indicator to keep the syrup reducing properly. So far, the sap has rendered into syrup with no problems this year or last year.
"It's a good way to start the gardening year," Mayauskas said. "I wish I'd learned to do maple syrup back in Connecticut, because they had some huge maple trees there." Previous to having worked for Gray for four-and-a-half years, Mayauskas was a gardener and estate manager for Leonard Bernstein's country home.
According to Mayauskas, eight ounce bottles have been ordered with a label on the front reading "Pure maple syrup from The Farm. This 100 percent Oakwood product is produced from the sap of our maple trees." It's currently in the plan to hand out a handful of the bottles to Gray's friends and business associates. Sweet deal.
---
Four of the students—sixth-graders Eric Krebs, Maggie Gellar, Liz Amburgey and Michael Hall—performed a skit for the board in which they played ancient Egyptian priests conducting an embalming ceremony. The school board members participated in the skit. Buffington noted that she used a lengthy checklist for the class skits.
"When a student is working on a project, I think it's very important to give them feedback…it allows them to improve," she said.
The school board members were impressed with the students' research of the ancient history and their use of terminology. The students were asked if the terminology in the skit helped them to remember it on their test. They said it did.
"It looks like this was a fun learning project," commented board member Debra Hershey.
Among special visitors at the meeting, Wright Memorial Library director Ann Snively invited the school board members to participate in this year's The Big Read community library project, and gave each of them a copy of the chosen book "Funny in Farsi: A Memoir of Growing Up Iranian in America" by Firoozeh Dumas.
Also visiting was Ned Thompson, president of Executive Bank Corp. in Wilmington, who presented a $300 check slated for the classroom of Jayne Weikel. The donation is part of the bank's Partnering With Our Community program, started in February, which is about putting money back into the community. Thompson said the program's goal is $30,000. The program is designed to donate funds when bank customers close on home loans. Weikel, who recently closed on a loan at Executive Bank, specifically chose her classroom to receive a donation.
In legislation, the school board approved the following:
*The resignation/retirement of Harman Elementary School teacher Delbert Faulkner, effective this June. Faulkner has been with the district for 35 years.

*The resignation/retirement of teacher Chris Murphy, also effective this June. Murphy has been with the district for 24 years.

*The employment of Howard A. Goodman as custodian at Smith Elementary, effective today. He has previously worked as a substitute custodian for the district and as a long-term substitute at the high school and at Smith Elementary.
In commendations, the school board recognized the high school speech and debate team members who participated in the state tournament. The team is coached by Brianna Doyal and Alex Kordik.
Team members Joanna Draper (dramatic interpretation), Rob Mitchell (humorous interpretation) and Siobhan Tellez (international extemporaneous speaking) will compete at the nationals in Las Vegas.
The trio were finalists at the state tournament along with Nora Murphy, Tyler Rife, Brianna McGhee, Julia Goff and Julia Sizek.
The Oakwood Board of Education will hold its next regular meeting on April 14, 7:30 p.m. at the central office.