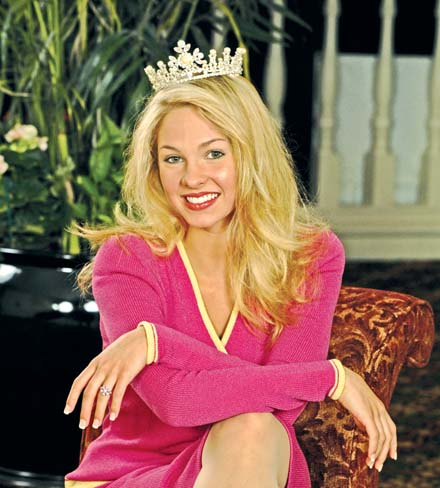 Lindsay Hanson, a senior at Oakwood High School, has been crowned the 2008 Miss Ohio Teen America. Lindsay was chosen on the principle that the future of our world is dependent upon the leadership qualities of today's youth. We believe that involvement in community service should be both encouraged and rewarded. We further believe that in order to become a strong leader a young woman must be a well-rounded individual. She must challenge herself scholastically, she must be poised, and she must be comfortable with herself in respect to her learned and natural talents. She must possess a strong desire to effect a change in her world, and to set an example for others to do the same. In the spirit of competition, she must be gracious. Lindsay possesses all these qualities and so many more.
As the 2008 Miss Ohio Teen America, Lindsay will represent Ohio in the National Teen America Program in this July in Nashville, Tennessee. Also with this title, Lindsay will work closely with many charities throughout the State of Ohio. Lindsay has chosen Breast Cancer Awareness as this years focus charity. The Miss Ohio Teen America Program will take on a partnership role with the fight against breast cancer and promote breast cancer awareness.
"We are so honored to have such a shining example of what our program stands for in Lindsay. Not only does Lindsay posses natural beauty, but her attitude, her academics, and community involvement are outstanding," said Program Director Roger Sessor. Lindsay has already held a turnabout dance at her high school to Dance to Prevent Breast Cancer.
If any business or organization is interested in having Lindsay speak or attend a function, they can go to www.missohioteenamerica.com for more information and to schedule Lindsay for events and functions. In addition, businesses can find sponsorship information on the Miss Ohio Teen America web site.
---
The "Pit", Oakwood High School's famous gymnasium, has a fresh new look compliments of the Athletic Boosters Association. It had been 14 years since the last previous update to the pit's appearance. This fall, the Athletic Boosters funded a project to purchase new SWBL banners, paint the walls, rearrange and update the league championship banners. The new look features fifteen five foot SWBL banners, one for each school in the SWBL conference. The league championship banners were updated and hung around the Pit to compliment the new SWBL banners. A new coat of paint completed the project.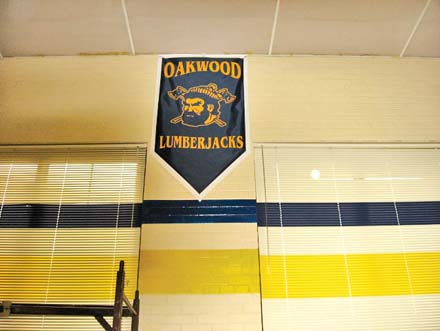 Freshly painted walls with new banners in "The Pit".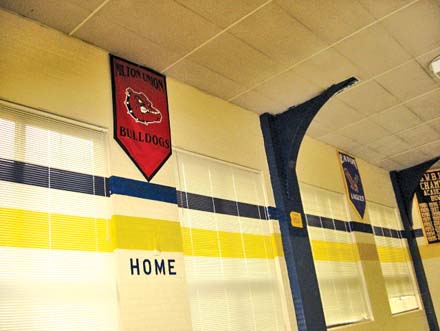 The recent Pit update represents one of many projects the Athletic Boosters has funded. Additional items funded by the Athletic Boosters Association this year include new golf bags, new field hockey kilts and new girl's tennis uniforms.
Anyone interested in supporting the Athletic Boosters Association is invited to attend the annual Spring Fundraiser to be held Saturday, March 8 from 7-10 p.m. at the Oakwood Community Center. This community event is the Athletic Boosters largest fundraiser of the year and features a silent auction, 50/50 raffle, complimentary beverages and appetizers. Tickets are $20 each pre-sale or $25 at the door. To purchase tickets contact Dean Harmony at 293-3757.
---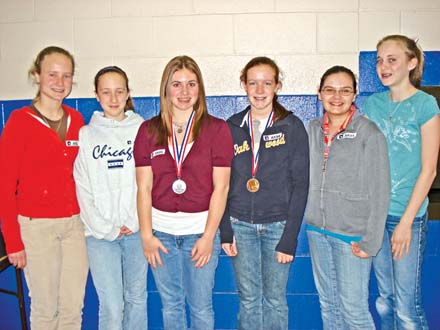 Congratulations to Oakwood's eighth grade fourth place district winners of the Power of the Pen team. Students from left to right: Rachel Ramey, Grace Hahn, Emily Ratton, Olivia Gillingham, Natalie Walker, and Molly Jackson. Individual awards were given to Emily Ratton (15th place) and Olivia Gillingham (10th place). Power of the Pen is a junior high creative writing team. Students competed at Mad River Middle School with about 95 other contestants.
---
By Lance Winkler

The Oakwood City Council met on Monday, March 3 with all members counted as present. Mayor Judy Cook announced three committee appointments. On the Property Maintenance Committee, Katherine Luckett and Jim Schmidt were appointed members. On the Oakwood Planning Commission, Harrison Gowdy was signed on as a member.
A petition introduced by Steve Byington requesting that residents on the north side of Dellwood be given a parking exemption that allows them to keep their vehicles parked on the street for an unlimited amount of time instead of the requirement of having to move the vehicle(s) after 18 hours. The petition passed unanimously.
In Legislation, a resolution was made to complete the improvements proposed for Orchardly Park as a single project. Earlier plans were to have Orchardly Park renovated in two phases: Phase I ($290,000) to be completed in 2008; Phase II ($300,000) to be completed in 2009. Council determined that the entire project could be undertaken and completed in 2008. This involves replacing the playground with more modern and challenging play structures, an improved water play station and rebuilt restroom facilities.The resolution passed unanimously.
A resolution regarding the Sugar Camp infrastructure agreement which allows funding to go through involving public infrastructure on the newly-built Sugar Camp Circle was OK'd unanimously. Funding in the amount of $693,00 will be allocated for the project. Funding in the amount of $1, 803,000 will be allocated in the future for projects such as the road to Old River, traffic signs, etc…
In the City Manager's report, Norbert Klopsch announced that the planned pedestrian bridge at Centennial Park will be undergoing construction in "four to six weeks." Due to the combined efforts, talents and contributions of Bill Lockwood, Al Leland, John Danis, George Kling and Brad Judge, Klopsch said, there will be no cost to the city for the bridge. The bridge will be made of composite materials and is a construction from the National Composite Center.
The next formal meeting will be on Monday, April 7, 2008.