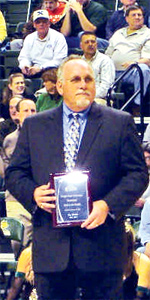 Wright State University inducted former Oakwood resident Tim Walker and two others into the Basketball Wall of Fame on Feb. 20, at halftime of their basketball game. Walker played there on the first basketball team, from 1970-1974, under John Ross, who was a former State Champion Coach of Belmont High School.
Walker graduated with a degree in Sociology in 1974, and retired after 30 years in the Montgomery County Criminal Justice System, the last 18 as a Bailiff for the Honorable John W. Kessler.
Mentioned by Walker was Dr. James Uphoff, who "was a great mentor to me when I needed some sound advice on my career decisions. I will never forget him for that," Walker said. His words were, "OK, you've been very successful in basketball, "sowed your oats", and now its time to get down to what you want to do in your life".
At one time Walker held nine school records, including most points in one game, (42); is a member of the 1000 pt. club and is still in the top ten in all time assists, steals, and turnovers. At WSU, the first two years Walker's basketball team played their home games at local high school gymnasiums while the WSU court was being built.
According to Walker, he grew up in Oakwood, at 303 Volusia Avenue, where his father was Captain of the Oakwood Police Department for 28 years, retiring in 1968. After his father retired, the family moved to Centerville, where Walker graduated in 1970.
Walker has lived on Hillview Avenue in Oakwood for the past 30 years. He is married to wife Valerie, and has a 16-year-old son Michael.
---
All Smiles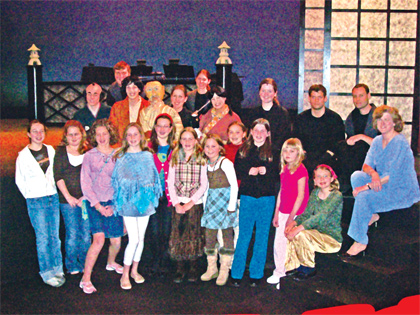 Sinclair Community College's theatre department is currently putting on the show Ama and the White Crane. It is a mix of Japanese and American theatre and a very enjoyable show. The show combines music, puppets, lighting and acting to provide wonderful theatre. It stars Sinclair students and is directed by Oakwood's own Kathleen Cleary. Girl Scout Troop 689, sixth graders at Smith Elementary in Oakwood, along with Girl Scouts from Troop 1929, fourth graders at Smith Elementary, attended the show. It was a great learning experience and a wonderful afternoon. The girls got to meet the actors after the show and get autographs and ask questions. Every girl loved the whole experience!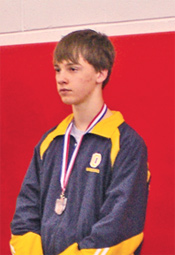 Jacks Wrestler, Daniel Jacobs, a junior, placed fifth in the Division II Southwest Ohio District Wrestling Tournament in Goshen, Ohio. Jacobs lost his first round match to a competitor from Circleville, Ohio but then came back and won three consolation matches in a row before losing to Circleville again in the consolation semifinals. That placed Jacobs in the finals for fifth and sixth where he defeated his competitor from Bethel-Tate avenging a loss to the same wrestler from the finals of the Finneytown Tournament earlier this year.
As the fifth place alternate, Daniel Jacobs can compete in the Ohio State Wrestling Tournament this weekend if one of the top four wrestlers from the Southwest District in his weight class is unable to participate. Teammate Alex Kooser lost to his competitor from Norwood who eventually placed third. Kooser then won his first consolation match but lost in the second round and overall competed very well. Jake Horlacher also wrestled very well, losing an exciting match in four overtimes.
125 pounder Brandon Bustillo qualified for the District Tournament but sadly was unable to compete due to an illness. Overall, the Jacks wrestling Team did very well in their first district level competition at Division II. Expectations are high for next year with all but one team member returning.
---
This past weekend, the Oakwood relay team of Maddie Hochwalt, Haley Pohlman, Ellen Viereckl, and Natasha Wahl made their way to the state swim meet at C.T. Branin Natatorium in Canton, Ohio. The Jills' 400 freestyle relay team finished 20th in the state in Division II competition.
In addition, freshman Maddie Hochwalt finished 23rd in the 200 yard individual medley and freshman Natasha Wahl finished 19th in the 100 yard butterfly.
For the Jills, just getting to the state meet was an extraordinary accomplishment. This is the first time in Oakwood swimming history that a relay team has qualified to go to the state meet.