By Lance Winkler

Last Wednesday, in the Oakwood High School library, Chris Hardy signed a Letter of Intent to accept a four-year scholarship to play football at Dartmouth College. An enthusiastic player and athlete, the OHS senior has lettered in three sports – football, basketball and baseball – for all four of his senior high years at Oakwood.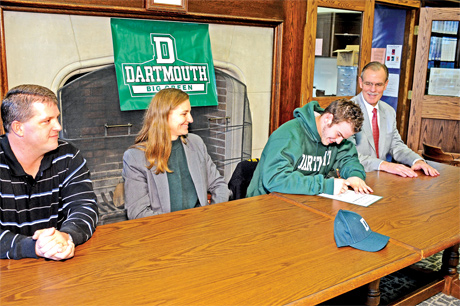 Chris Hardy signs on the dotted line. Pictured left to right: Coach Paul Stone, mother Victoria Nilles, Chris Hardy and father Dr. Thomas Hardy.
Hardy thanked his parents for their support and all the sports camps they sent him to, his friends and classmates for their support and last but certainly not least, Coach Paul Stone for his guidance over the past four years.
"Dartmouth's getting a first class kid – and a first class athlete," said Coach Stone, who has served as both football and basketball coach for Hardy.
According to his mother, Victoria Nilles, Hardy's first sport was soccer, which he took up when he was four years old, followed by football when he was six. By the time he was in eighth grade he was playing three sports during the school year – football, basketball and baseball.
His father, Dr. Thomas Hardy, is noticeably taller than his son. When note was made of this, Dr. Hardy remarked that his brothers (Chris's uncles) are equally tall and that Chris still has some growing to do. "His great fear is that his sister (Cathryn) is going to be taller than he is," Dr. Hardy quipped.
Chris is planning on playing the same position in football he played at Oakwood – as running back. He also plans to get in some baseball as well playing his favorite position at center field. As far as basketball goes, he has played and will continue to play "many positions."
For a major, he plans to delve into either business or economics. "I just want to be successful," he said. With a full-ride to Dartmouth, he already is.
---
By Mayor Judy Cook

2007 was marked by many challenging projects and issues which engendered enthusiastic citizen participation. The review by citizens of these projects and the ensuing comments and discourse surrounding the decision making process is a great strength of our community. A government is only as good as citizens require it to be. In Oakwood, our citizens stand ready to participate and are insistent on having their voices heard. It is important that this continue and it is the responsibility of City Council and City Staff to see that it does.
When the year began we were well into completing the process of approving plans for the development of the former NCR Sugar Camp Oakwood property. The long, step by step, process required to develop the plan was finished in April when and Council voted to approve the master detailed development plan. The complexity of this project continues to demand attention of staff and often Council as well. Ground breaking took place in October with focus on the infrastructure needs of the project and the commercial areas. The residential portion of the development will begin soon with the exciting prospect of retirement housing becoming available in our city. As financial benefits from the Sugar Camp occur, they will be immediately realized by all Oakwood citizens in the form of lowered property taxes. This crucial aspect of the project has from the beginning been a the key requirements of our citizens. When the commercial office buildings are fully occupied, we expect to receive as much as $250,000 in new income tax revenue. This money will help us to continue providing the finest city services and to avoid a tax increase for at least a couple more years.
The proposal for regional centralized dispatch garnered our attention for much of the year. The prospect of saving millions of dollars in the region while providing commendable dispatch service led City Council to enter into a study plan to consider joining the unified service. Oakwood stood to save $100,000.00 a year by participating in the centralized dispatch service. However, it was difficult for our community citizens to understand the limits of this proposed change because our Oakwood dispatch personnel provide so many additional services beyond dispatch. With this lack of understanding and the expressed demand that we maintain the personal touch characteristic provided by our own dispatchers, personnel, City Council accepted the recommendation of city staff that we not join centralized dispatch. However, City Council did direct staff to begin using the county-wide dispatch center as our primary backup. Council also appropriated $200,000 to pay for major upgrades to our dispatch center. We will continue to monitor this new service and examine future cost saving possibilities.
In August 2006, NCR deeded Hawthorn Hill to the Wright Family Foundation. The years of living with Hawthorn Hill as a private guest house were over. The Wright Family Foundation, responding to both their long standing convictions regarding the house and to regional encouragement from the Aviation Heritage Foundation, announced their decision to transfer ownership of the house to the National Park Service and made application to open the house for public tours. Immediate neighbors protested both these plans, particularly ownership of Hawthorn Hill by the federal a government, non local entity. Lengthy meetings and public hearings ensued regarding this decision. Community support for opening the home to public tours was evident as was the continuing determination by the Wright Foundation, owners of Hawthorn Hill, to transfer that ownership to the National Park Service. Members of the Wright Family Foundation demonstrated support for neighbors concerns and endorsed detailed conditions to protect the neighborhood. In the several months the home has been open for tours on a limited schedule, there has been no disruption to the neighborhood. The legislation required to transfer ownership of Hawthorn Hill to the Nnational Park Service has been introduced but with many requirements remaining for completion. This legislative process has the full attention of City Council and city staff.
As the result of a front page article in the Oakwood Register, much of the summer months were spent on the topic of subsidized housing as it relates to Oakwood. Along with Oakwood city staff, the staff and Board of Directors from Dayton Metropolitan Housing Authority, along with representatives from Miami Valley Fair Housing provided the necessary information for the discussion. They gave generously of their time to be of assistance. Subsidized housing is not new to our community. For some time several types of subsidized housing have existed successfully in our city. They are few in number and blend comfortably with our housing stock. The power of our property maintenance code and its enforcements, along with stringent city law enforcement, creates a level playing field for citizens living in Oakwood, no matter how their housing is categorized. We can count on these standards to assure proper property maintenance in the future while welcoming anyone dedicated to keeping these standards as a resident.
Changes to the stretch of Oakwood Avenue between Far Hills Avenue Thruston Boulevard and the north city limits are another part of our 2007 legacy. The street was in need of resurfacing so safety issues along the roadway were also addressed. The street is not wide enough to be a four lane throughway and yet vehicles often drove as if it was. Speed and unsafe driving practices were concerns calling for correction. Initial reaction to proposed changes from home owners bordering this roadway was not favorable. After a series of meetings through which citizen concerns were addressed, an agreeable plan was finalized. The city had the choice of making minimal changes to correct safety issues or embracing the opportunity to enhance the streetscape. This neighborhood of gracious homes called for a streetscape to match and thus the beautification additions were made. Oakwood Avenue resident Harvey Lehrner deserves special recognition for investing an enormous amount of time and energy in representing his neighbors and working with the city to arrive at a final roadway design that best serves our community.
Our business districts received attention this past year. A streetscape plan for the Neighborhood Business District on Park Ave. was developed. The city parking lot between Park Ave. and Dixon Ave. will be reconfigured and resurfaced this year and some new signs will identify the district. The remaining portion of the plan is still under consideration due to cost implications. For our Far Hills Business District, parking improvements are planned on the east side. Property has been is being acquired as part of a coordinated plan for additional parking to supports the considerable private investment recently devoted to that district. The results will encourage future success for the district. Final details of the plan await citizen review.
The issue problem of deer encroachment into Oakwood remains a problem although the number of deer incidents is down. Citizen reports clearly indicate on-going increasing property damage and evidence of deer moving into new areas of the city. We continue to seek a solution.
There were changes in 2007 to note. An appeal from an Oakwood citizen drew the attention of staff and Council to sidewalks on corner lots. After due consideration, our ordinances were changed so that corner lot property owners will now be responsible for sidewalk repair cost only along the front of their property. The side lot walk ways will be maintained at city expense. Only the second The first increase in sewer rates since 1992 became effective early in the year. The 25% percent increase was necessitated by falling balances in this fund due to increased costs over the years without additional revenue. Wifi access came to our city in 2007. Without cost to us, citizens are able to access the internet in outside areas in the Far Hills Business District, the Ppark Ave. Business District, the Oakwood Community Center property, and Fairridge Park. Along Ridgeway Road, the battered metal roadside barriers were replaced with more environmentally appropriate and attractive wooden rails. The Oakwood Historical Society embarked on major restoration projects at the Long-Romspert House. Made possible only because of skilled, knowledgeable and dedicated volunteer effort, the transformation is inspiring. Along with authentic period decor, the restoration will also create a teaching history of kitchens. The Society is seeking private funding to complete the restoration.
Many traditional community celebrations were welcomed throughout the year. The Dr. Martin Luther King, Jr. Breakfast at the beginning of the year marked the fourth year of this...
Look for
State of the City - 2008, part 2
in next week's issue of
The Oakwood Register !
---
By Dawn Beigel

Students at Smith Elementary School have been experiencing how the subjects of language arts, social studies, science and math are applied to art.
Christina Gluck, art teacher at the school, presented at last night's Oakwood Board of Education meeting the ways in which she integrates regular academic content standards into her instruction. She also reviewed how she differentiates her instruction to meet the students' readiness levels, interests and strengths.
As an example, she shared a Chinese shadow puppet project the students have done and explained the different steps throughout the project, which began with the school's media specialist introducing ancient Chinese legends and stories. The media specialist is among five school colleagues Gluck collaborates with (the others include an intervention specialist, an occupational therapist, a classroom teacher and a TES teacher) in order for all the students to participate in the project.
"It (the academic integration) is something I've always done to an extent, but more so lately," said Gluck. "It has really had an impact on my students and on me. Seeing all the different levels of a project, that's what I enjoy the most."
Gluck's planning process includes daily activities, benchmarks and multiple intelligence factors. The factors can touch upon any of the following skills: linguistic, logical (math), spatial, bodily, musical, intrapersonal and interpersonal. For example, linguistic skills come into play when students give oral presentations, and intrapersonal skills can make them self evaluate their work. Gluck said she tries to get all of these skills into each lesson, and whatever skill is missed is picked up in her next lesson.
For the shadow puppet project, students basically designed their puppets using a packet, did a self-evaluation exercise, completed a writing or drawing activity and, finally, performed a puppet theater complete with scenery, music and puppet manipulation on the night of their art show.
Gluck provided a sample of a student's work, which demonstrates written storytelling and artistic skills. She emphasized it's not the outcome of a student's artwork that is graded but everything as a whole that tells her whether they have grasped the idea of the project.
The school board was very impressed with Gluck's presentation. Board member Beth Merritt suggested that Gluck's presentation would be ideal to show parents at open house. Superintendent Dr. Mary Jo Scalzo said they should schedule Gluck for the school's family night.
In commendations at the meeting, the board recognized:
*All students at the junior high and Harman and Smith elementaries for participating in the annual spelling bee. Winner was fifth-grader Ian Hayes and runner-up was fourth-grader Tobey Cebulash, both from Smith Elementary.

*The sixth-graders at Harman and Smith elementaries for participating in the National Geography Bee, which is sponsored by the National Geographic Society to promote the teaching and learning of geography. At Harman Elementary, first place winner was Will Hix and runner-up was Patrick Ireland; at Smith Elementary, first place winner was Zev Lustgarten and runner-up was Michael Thesing.

*The high school speech and debate team members who qualified for the state finals Feb. 28-March 1 at Medina High School. Team coaches are Brianna Doyal and Alex Kordik.

*Junior high students Mark Hanson, Margaux Mayhew and Javan Austin for being named the school's and Oakwood Rotary Club's January Students of the Month.
Among legislation, the board approved the following:

*A $5,000 donation for the American Dream Essay Contest from Frederick M. Bayley, and a $7,500 donation for the high school band trip to Canada from the Oakwood Sister Cities Assoc.

*A request by the Wright Memorial Public Library Board of Trustees to appoint Pamela Menafee to their board to fill the unexpected term of Steve Byington, who resigned because of his election to city council. Menafee's term will last through the end of 2011.

*The retirement/resignation of high school Spanish teacher Sharron Lovett, effective this June. She has been at the high school since 1987,

*The employment of David Baumgardner as head custodian, effective this past Feb. 1. Baumgardner has been interim head custodian at Smith Elementary since last November and has been with the district since 2002.

*Two proposed job share arrangements at Smith Elementary for next school year—one between teachers Annalee Walker and Erin Nye and one between teachers Amy Mullins and Christina Gluck.
Oakwood School Board will hold its next regular meeting March 10, 7:30 p.m. at the central office.