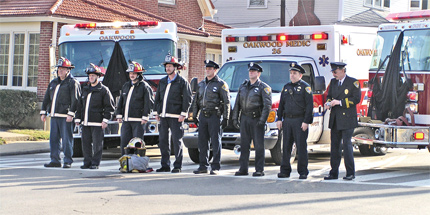 Eight Oakwood safety officers, four representing the Fire Department and four representing the Police Department, stand sentinal at the intersection of Far Hills and Schantz Avenues and await the casket of Lt. James G. Luckett as he is driven to his final resting place at Calvary Cemetery on Saturday.
---
By Dawn Beigel

Oakwood School Board began its first meetings of the new year with one new member and several new appointments last night.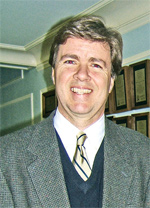 Joining the board is Sam Davis, elected in November, who fills the seat vacated by long-time member Dr. Jim Uphoff. Davis is a 1979 Oakwood alumnus, and a marketing graduate from Ball State and Ohio State universities. He is employed by Spohn Associates, Inc. as a manufacturers' representative in the commercial construction industry. He has served on the district's facilities council. He returned to Oakwood, his hometown, 10 years ago with his wife and sons.
Davis has been assigned by the board to serve as their education foundation liaison and on the facilities committee.
Other appointments/assignments at the organizational meeting
were as follows:
Debra Hershey - Ohio School Boards Assoc. student achievement liaison/communication, OSBA annual conference alternate. She is starting a new term on the board.

Beth Merritt - PTO liaison.

Dr. Paul Vanderburgh - OSBA annual conference delegate, business advisory/finance committee.

Elizabeth Reger - legislative liaison.

Kevin Philo (treasurer) - 2008 public records training designee, toxic hazard preparedness officer, prevailing wage coordinator, OSHA safety director.

Kathy Bartalo (director of educational services) - compliance officer, liaison for homeless children, Education Monetary Assistance Distribution System coordinator.

Also at the organizational meeting, Dr. Vanderburgh was reappointed as board president, and Mrs. Hershey as vice-president.
Vanderburgh gave the president's "year in review" comments:
"2007 was a great year for Oakwood Schools! The district was recognized for a number of prestigious rankings and achievements…I'd like to thank (everyone) for consistently showing that excellence is indeed a habit," he stated. He also mentioned the city and schools' centennials for 2008, and how Oakwood's Class of '08 will be recognized as the centennial class.
During the board's regular meeting, Smith Elementary School teacher Sandy Zipes showcased WeatherBug Achieve, an award-winning educational software she has been using in her classroom for students to study meteorology. Zipes wrote the grant for WeatherBug at her school and it has been funded by the district's education foundation.
WeatherBug includes outdoor equipment located on the school's roof that provides live video feed of weather and a host of meteorological data, like temperature, wind speed and dew point. Zipes highlighted the educational benefits of WeatherBug, which deals with real world situations, and shared photos and information on its equipment and online service.
"The children are very interested in it," said Zipes. She added that her students particularly enjoy its weather observations feature and Storm Central tools. The students do a "Meteorologist of the Day" project in which they do weather research, give an oral report, do a written report and post their data. They also recently did a teleconference on hurricanes with a meteorologist, and hope to do teleconferences on blizzard and tornado conditions in the future.
WeatherBug can be used for K-12 and by the entire Oakwood community. To try it, visit http://weather.weatherbug.com and enter your zip code.
Among guest speakers at the meeting, Oakwood resident Healy Jackson commended the school board in recognition of School Board Appreciation Month this month. "I really value the work you do…and I am personally very, very grateful," she said, highlighting the accomplishments of her kids that were made possible by the skills they acquired in school.
Also as a guest speaker was Bob Hitchcock with the Oakwood Sister Cities Association, who presented the board a $7,500 check to help fund the high school band's trip to Quebec and Outremont, Canada this year.
Among commendations, the board recognized the high school for being an honoree for the 2006-07 State Superintendent's Schools of Distinction recognition program. Also recognized was eighth-grader Sarah Manavis, who co-authored an article "Glimpse in the Past" which was published in the recent issue of New Moon: The Magazine for Girls and Their Dreams.
In regular business, the board:
Established the Dr. Uphoff Collaborative Fund and accepted a $1,000 donation from him towards the fund.

Accepted donations to the Frederick R. Walker Band Foundation, and a $5,000 donation from M. Thomas Murray for the social studies essay fund.

Approved the appointment of Alan Halpern to the Wright Memorial Public Library Board of Trustees from January 2008-December 2014.

Adopted the resolution to join the OSBA legal assistance fund for 2008.

Accepted the retirement of Bill Walls, custodian at Lange Elementary School, effective last Dec. 31. He has been with the district since 1984.

Accepted the resignation of Joyce Armocida as a mentor, effective for this school year.
The school board will hold its next regular meeting Feb. 11, 7:30 p.m. at central office.
---
OJHS/OHS drug-alcohol usage up in higher grades

Survey shows 'slightly higher' percentages than that of other schools on 4 key questions
By Dawn Beigel

Oakwood's results from the last Dayton Area Drug Survey (DADS) given to students read unfavorable particularly with grades 10-12, when compared to the results of other area schools surveyed.
DADS is given by the South Suburban Teen Alcohol & Other Drug Prevention Task Force every two years to a number of area districts. Each district decides which of its grade levels from 7-12 will take the survey. Students participate anonymously and voluntarily.
The survey asks a variety of questions involving student drug and alcohol use, like whether they've ever smoked a cigarette or if they've drank heavily in the last two weeks.
Of the results, Oakwood's percentages that were slightly higher than that of other schools include:
• 51 percent of seniors said they've smoked a cigarette.

• 18 percent of juniors said they've smoked at least one cigarette a day in the past month.

• 66 percent of seniors, 50 percent of juniors and 41 percent of sophomores said they've been drunk at least once.

• 45 percent of seniors and 40 percent of juniors said they've used marijuana.
"What our survey shows is our students are illegally using drugs," said Oakwood High School Principal Joseph Boyle. "Bottom line—it's not good for them."
"I think it's something we as a community need to work on," said Peggy Holton, Oakwood Junior/Senior High School prevention/intervention counselor, who presented the survey results to the board of education in December. "We all need to work together, and that's true of every community."
Boyle added, "It's a community problem. (To address it) takes all of us working together as a team."
He noted a troubling increase in drug/alcohol usage between grade
levels."The growth in usage between freshman and sophomore year alarms me," he said.
The survey shows that by tenth grade more students have used alcohol and cigarettes in particular than they did their previous year in school.
Alcohol and cigarette usage shows to be by far more common with students than use of illegal drugs and smokeless tobacco. By overall comparison, alcohol appears to be the popular choice. The survey shows that students use alcohol mostly at parties, on weekends, and are obtaining it mostly at stores and at parties without supervision.
"What we found is the perception of risk by students is a huge issue," said Holton.
Example: Thirty-seven percent of seniors said they've driven a vehicle while under the influence, while 56 percent of them said they've ridden in a vehicle when they thought the driver was under the influence.

There also appears to be a widening gap in the perception of alcohol and tobacco harmfulness between age groups. Example: Forty-four percent of seventh graders see alcohol use as very harmful, while only 28 percent of seniors see it as very harmful.
The survey also asks students if their parents think that they use drugs and alcohol. An overwhelming majority of them said their parents certainly do not think they do.
The task force gives several recommendations to address issues of student drug/alcohol use. One of these is parents educating their kids.
"Parents need to be very vigilant (because) yes, it is a problem," said Boyle. "We try to talk to parents (about these issues) whenever they're at school, like for open house."
"I tell parents to lock their medicine cabinets (especially when it comes to non-prescriptions)," said Holton. "Students do use inhalants (because) they're cheap and easy to access."
Another recommendation is to enhance evidence-based education on alcohol, tobacco and other drugs, and continue throughout high school.
"Certainly, we provide education in health class and through Peggy's intervention," said Boyle. "We play a much more educational role to try to improve the (survey) numbers. We try to adjust that according to the data, but it's frustrating because the problem doesn't go away."
Other recommendations are to enforce consequences of behavior, communicate a no-use message, and adopt a resolution supporting these recommendations as well as the survey report. Oakwood Board of Education did the latter at its regular December meeting.
The next DADS will be administered by the end of March, with 19 area schools participating. Results should come in mid-June, according to Holton.